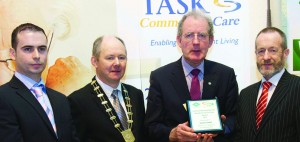 A Newcastle West community activist scooped a top award at the annual Muintir Na Tire TASK Volunteer of the Year Awards in Bansha last Saturday.
Seamus Hunt, the Chairperson of Newcastle West Community Coun-cil, was awarded both the Regional and National award for Community Development Volunteer 2011 at the awards cere-mony.
A tireless community worker for many years, he has been chairperson of the Community Council for ten years and is also chairperson of Newcastle West Comm-unity Centre and New-castle West and District Pipe Band as well as a member of St. Vincent De Paul.
Seamus told the Weekly Observer this week, "I am honoured to get the award, it is in recognition of, and I dedicate it to, the good work of all the members of the Comm-unity Council. It is recognition of the work carried out by the Council on the lay-out survey of the town, the Cailín Deas project in the Square, the fencing of the children's playground and the recent publication of a map of Newcastle West which has been regarded as a great success".
Muintir Na Tire was founded by Canon John Hayes in Tipperary in 1937 and this year celebrates its 75th anniversary.