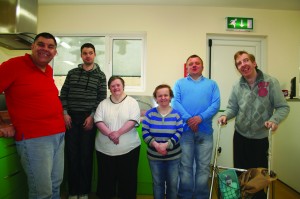 A new facility aimed at preparing service users for independent living will be unveiled at the Brothers of Charity, Newcastle West on this Friday. The organisation's new Life Skills Training Room has been completed and will be in use from the start of 2012.
According to senior instructor Aoife Keogh at the Brothers of Charity "the idea of the room is that people will acquire, develop and maintain skills that they need to survive on their own in the real world or with the minimum help from ourselves of their families."
" Looking to the future for the service users, a lot of people are dependent on families and carers to carry out their daily lives and what they are looking for are skills to do things for themselves and help them move out into apartments in the community," Ms. Keogh explained.
The Life Skills Training Room will help users to develop skills in cooking, cleaning, shopping and travelling, things that most of us take for granted, and comprises six fully equipped kitchens and a classroom. "The pro-grammes in the room are aimed at all the individuals but are specifically designed for individual's needs and are broken down into small steps that are easy-manage," Ms Keogh said.
The opening of the Life Skills Room is just another milestone in the development of services at the Brothers of Charity and is the culmination of what has been a very exciting 2011. "It has been a good year for us," agreed May Philips manager. "The two highlights of the year have been the development of the Life Skills Training Room and the second is the development of the service users cycling club which was formed in 2010 and which is run in conjunction with staff."
The Pfizer Cycle Touring Club (formally Wyeth) in Askeaton celebrated 21 years of fundraising last year and chose the Brothers of Charity, Newcastle West Service, as their nominated charity. Following the success of the Pfizer Touring Club Cycle, it was decided to form our own cycling club called 'Brothers of Charity Newcastle West Cycle Club'. This club has been affiliated to Cycling Ireland for the purpose of being able to organise its own events, which has been very useful from the point of view of fund raising.
The club's first first event took place on 28th August 2010, when nearly forty cyclists took part in a fifty mile cycle which started and finished at Newcastle West Day Services. Our journey brought us out the Bruff Line to O'Rourke's Cross, and then on to Croom, Patrickswell, Adare and Rathkeale before arriving back home.
The second annual cycle took place this year and once again was a huge success thanks to all our volunteers, cyclists and sponsors. All money raised will be used in the West Limerick Service. As part of the ongoing programme development cycling has been introduced as part of the Day Centre activities. All service users receive training and it is hoped that the Great Southern Trail will be location for the more experienced cyclists to develop their skills.
The Brothers of Charity, Newcastle West currently cater for 70 service users ranging in age from 18 to 75 who are drawn from around West Limerick and parts of North Cork. Currently there are 11 staff providing the day service.
Ms. Phillips and her staff are already planning for 2012 and the future. "The main focus for us is to provide a person centred approach to service provision so that means that we look at each individual person and see what they need in their lives and how we can support them. We want the service users to be as independent as possible so that they can do as much for themselves down the road as they possibly can."
The eventual aim is to have as many as possible in independent living "It is the way forward. The day is gone when people live in large institutions, more and more are developing skills that will allow them to live independently. Currently we have six people who live independently in their own apartments with some support from us. Some service users do not have parents and siblings so they need to learn to be independent," Ms Phillips said.