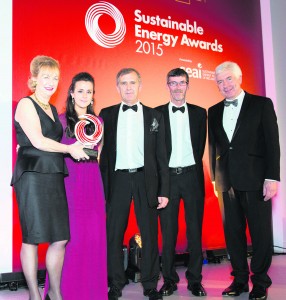 2015 marked the 12th year for the annual Sustainable Energy Awards, presented by SEAI. The awards encourage and reward excellence in energy management and interest and support for the awards has been growing year on year with a record number of 160 applicants this year.
Of the 40 applications shortlisted across 9 different categories, only one Limerick company, GKinetic Energy Ltd, made it to the final rounds. The winners were announced at a Gala Dinner held at the Royal Hospital Kilmainham in Dublin last week. The event was its biggest yet with over 350 in attendance including guest of honour, Alex White, Minister for Communications, Energy and Natural Resources.
Marking the Irish Year of Design 2015, SEAI made a special award for Design in Sustainable Energy. The award recognises products or projects or services which best demonstrate the vital fusion of technically sound sustainable energy solutions and creative execution for maximum appeal. GKinetic were announced as overall winner of this award on Friday night, facing stiff competition from other finalists including Climote, Digital Realty and Solearth Architecture.
The company, established in 2013, has designed and developed a unique tidal energy device for harnessing energy efficiently from ocean and river flows. GKinetic is currently performing tow tests of its innovative device in the Limerick Docks up until Christmas time. If you would like updates on their project visit www.gkinetic.com.