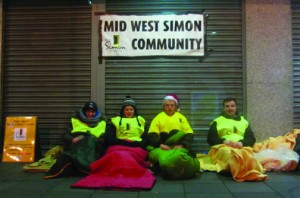 Where to begin is the first thought that comes to mind. This is the 2nd year in a row that Newcastle West Macra have hosted the Sleep Out for Mid West Simon Community, a charity which aids the homeless in Limerick, Clare and North Tipperary. It's an event that ran for 24 hours from 8.30am Sunday December 23rd to 8.30am on Monday December 24th in Limerick City Centre. It commenced with a bucket collection from 8.30am on the morning to 8.30pm the night of 23rd December and then members of Newcastlewest Macra along with a member of Kilmallock Macra, Dan Casey, slept on O'Connell Street, Limerick city from 8.30pm that night until 8.30am on Monday morning 24th December. So far the event has received €3,077.82 in donations – a phenomenal amount of money which will be put to great use for the homeless by the Mid West Simon Community, and there's more to come in from Limerick Macra clubs who have yet to return their sponsorship cards.
It's not just the money raised so far for the Simon Community that made the event a success, it was the volunteers from Limerick City Macra, Boher, Ballylanders, Croom Macra, Kilmallock Macra and our own club and the generosity and kindness from all the members of the public – that's what made it happen. The volunteers for the bucket collection – Dave McCoy, Catherine Carroll, Mags O'Connor, Deborah Breen, Micheal Rowsome, Eileen McEvoy, Jim Heffernan, Seamus McGrath, Aine O'Brien, Micheal Collins, Caroline Collins, Dan Casey, Sharon Power, Anna Holland and Pat Rearden were phenomenal – without their help on the day it would not have been possible to raise the money we have raised so far, and on behalf of all in Newcastlewest Macra, we'd like to thank each and every one of them for giving up their time to be there for us and for the Simon Community. And not only did Macra members give up their time on the day, all the clubs within Limerick took sponsorship cards to raise more money for the Simon Community. And these are just 2 examples of one of the core aspects of Macra na Feirme – to be there for our fellow Macra members, to be there for others and to help those who need it most.
And the generosity from the public has been overwhelming, not just in donations of money, but the kind words and best wishes that they gave us over the space of the 24 hours. There was a real sense of community spirit, Christmas spirit and a sense of warmth from everyone, something that we wish everyone could have experienced. The words "fair play to ye", "well done", "ye should be commended for what ye're doing" "we hope ye stay safe there and Merry Christmas", "a great charity to fundraise for" were among the words we heard time and time again over the duration of the event. And that's what kept us going, especially during the Sleep Out that night. We really can't thank the public enough for all the good wishes and donations they gave us, it really meant so much to us to have that support there and we couldn't have gotten through it or raised the money we have raised so far without them all. Despite the recession and harsh budget cuts, nothing can dispell the true community spirit and goodwill that lives within each and every member of Limerick city and county.
An Garda Siochana in Limerick city were yet again instrumental to making this event happen. They very kindly gave us the permit to hold the event and they also took the time to watch over us on a regular basis through the night. At one point in the night they took the time to stop, ask us if we'd like something hot to drink and asked if we were ok – they went beyond the point of what the permit covered and were genuinely there for us – not as Guards but as people – and we really can't thank them enough for the feeling of knowing we were safe on the streets – it's something that budget cuts can't take away from their services to the public. And we'd like to extend a very big amount of gratitude to them for what they did for us, we really can't thank them enough.
Another person who was instrumental in this event was Susan Ward, Fundraising Co-ordinator for the Mid West Simon Community. From start to finish Susan was there for every aspect of the event – from planning and organisation, to bucket control and counting and to providing warm blankets for the night, she was a huge part of the event. We couldn't have gone ahead without her and on behalf of all of us we'd like to say a huge thank you for all the hard work she put into making the event possible. Thank you Susan!
We'd also like to thank AIB Bank on O'Connell Street, Limerick for allowing us to sleep outside their premises for the night, we really do appreciate it. This is the 2nd year and we really do appreciate it. And to the Royal George Hotel – thank you for allowing us to use their toilet facilities during the night. Another big thank you goes to Arabica Cafe, Shannon Street for providing the members Dave McCoy, Mags O'Connor, Dan Casey, Micheal Rowsome and Eileen McEvoy with breakfast for free on December 24th. They said "It's our way of saying thank you to ye for sleeping out and raising money for the homeless" – and this is yet another genuine gesture from people who appreciate the little things in life that people do for others.
There was one experience during the event that really made us think about what we were there to do – directly help the homeless. We encountered a homeless man, no more than 30 years old. He had no addictions – it was just unfortunate circumstances that had led him to a life of homelessness. And it was a stark reminder to us that it can happen to any of us at any time. We kindly got him tea and a hot toasted sandwich, and with the help of a member of a local church, we managed to get him a proper hot meal and fresh clean clothes to wear. We bumped into him later on the evening of December 23rd and he was like a new man! With a smile on his face he said to Eileen McEvoy, a member of Newcastlewest Macra, "Thank you for what you did for me today, I can't believe I have clean clothes and that was the first hot meal I've had in a month". It was an experience that really hit home, of what life as a homeless person is truly like and made us think about how fortunate we are to have the lives we have, to have a roof over our heads, to have family and friends who are there for us – all the things we take for granted. 
So the outcome of the event was not the €3,077.82 raised so far, it's the feeling of accomplishment that what we did will directly help those less fortunate than us, the goodwill and genuine wishes we received from all the people we met throughout will stay with us and knowing we got to help one homeless man on the day itself – that's what made the event a success to us. And from all of us here in Newcastlewest Macra, to every member of the public, to every member of Limerick Macra and to all who made the event happen – we are so genuinely grateful to all of you for what you have done and for what you have given – your generosity in so many ways has not gone unappreciated and will not be forgotten.