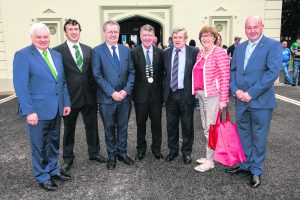 The community of Newtownshandrum village commemorated all the people who gave their lives for Irish independence in the 1916 Rising and the War of Independence at a ceremony in the village on last Sunday. A monument bearing the Proclamation of the Irish Republic was unveiled in front of the G.A.A. Hall at the western end of the village by local man Pat Keane, who also gave the oration.
In his address Mr. Keane traced the events of Irish history through the centuries, including Landlordism, Unionism, the formation of the I.RB., the Worker's Union movement, the Irish Citizen Army, the Volunteers, Cumann na mBan and Sinn Féin, and leading up to the 1916 Rising and the War of Independence.
"In local terms there was no big ambush carried out locally as the terrain did not lend itself to successfully laying an ambush, but the men of the parish as members of 'B' Company in the Charleville Battalion of the Cork Number 2 Brigade played their part in actions further west in Duhallow," he said. He also relayed the story of the three local men, Paddy Galvin, Michael Slattery and Maurice Shine, who raised the tricolour on Easter Sunday morning 1916 over the local Creamery. The flag was later removed after the British military intervened as no locals would take it down.
Earlier a lone piper and a colour party of Sgt. Paul Walsh, 2nd Lieutenant David Clifford and Sgt. Shane Desmond from 1st Brigade Artillery Regiment, Collins Barracks Cork led a parade of community organisations to the G.A.A. Hall, where Lieutenant Clifford raised the tri-colour and the National Anthem was sung by Ber Browne. A wreath was laid at the monument by Life Long President of Newtownshandrum G.A.A. Club, Jack Madden. Children from the local national school depicted the executed leaders of the 1916 Rising and the Proclamation was read by national school pupils, Jessica Hogan, Owen O'Mahony and Taylor Jordan. The Last Post was sounded by trumpeter Willie Williamson.
Among the attendance was Michael Moynihan, T.D., Aindreas Ó  Muinecháin, T.D. and Kevin O'Keeffe, T.D. Cllrs. Frank O'Flynn, chairman of Cork Co. Council 1916 Commemoration Committee, Cllr. Kay Dawson, Cllr. Gerard Murphy and Conor Nelligan, Heritage Officer Cork County Council.  Cllr. Ian Doyle who was MC for the ceremony was also deputising for the Mayor of County Cork, Cllr. Seamus McGrath.
Members of Craobh An Rath Comhaltas Group provided music for the occasion and the event was organised by Joe Boles and his committee who also provided refreshments for the gathering in the G.A.A. Centre.