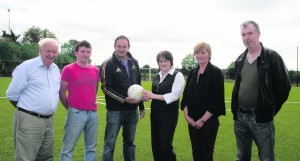 A major addition to the sporting infrastructure of west Limerick will be unveiled on Saturday September 7th when former Ireland international, Arsenal, Manchester City and Sunderland star, Niall Quinn will officially open the new all weather facility at Kilcornan.
The facility, the product of the hard work of Kilcornan Community Development Committee, will be dedicated to the memory of the late Ger McDonnell, a native of Kilcornan and world renowned climber who was the first Irishman to scale the summit of K2 died tragically on the descent five years ago.
It is the fulfilment of a dream for the organising committee as one of the driving forces behind the project Dave Downes explained "starting out eighteen months ago, it was only a dream, today the pitch is completed and up and running. It is a high spec facility and we hope to attract different sporting clubs and boot camps. It is very suitable for hurling, football, soccer and rugby so we are hoping to attract a lot of interest from the surrounding area."
The facility has cost in the region of €300,000 and it was all made possible by the input of West Limerick Resources. They provided grant assistance to the tune of €150,000 and according to Mr. Downes "Without West Limerick resources, we would be cutting silage in the field for many years". The remainder of the funding was raised through a huge community effort. "We had the Curraghchase 10k, race nights and other fund raising events. Once we set out our stall everybody rowed in and helped out," Dave Downes said.
The new facility is dedicated to the late Ger McDonnell and on the day a plaque will be unveiled at the entrance to the new facility which is situated in the same complex as the local Community Centre, G.A.A. pitch and the local soccer club's playing facilities. "From the start we had it in our minds to dedicate it to Ger, he was a very popular person in Kilcornan, went to school here was accomplished at hurling, football and soccer and was interested in all sports including Community Games and it is nice to be able to remember him in this way," Mr Downes revealed.
Dedicating the facility to the memory of Ger McDonnell is something that his family are very pleased about as his sister Martha Lynch acknow-ledged "we were shocked when we were informed that it was going to be called the Ger McDonnell Park. It is sad but it is lovely. He was one who really did not like fame, he was quite but we are thrilled and we would like to thank the parish, they have been very good to us. We will never forget what the parish have done for us, we are delighted that it has now honoured him in such a way, it ensures that he will never ever be forgotten".
The new facility comprises of one full 70m x 44m pitch or two five a side pitches installed to FIFA 2 star standard and IRB and G.A.A. approved. It has integrated shock pas designed to reduce impact and fatigue for the player, 300 Lux lighting and us surrounded by 2.4m fencing with ball netting to enable 95% ball retention.
According to Dave Downes, "We were very lucky to have a close knit group of people who worked very hard, our chairman Gerry Mann, Rachel McDonagh treas-urer, secretary Catherine Maher, Jerry Larkin PRO, Garret Kelly, Kevin O'Keeffe, John O'Gorman, myself and others, we had a very small committee but hard working. We had great help from among others Ray Nash and Liam Meade.
Many good things are happening in Kilcornan presently, platform dancing will take place on this Sunday September 1st at Curraghchase Cross from 3 to 6pm. Clare native Pat O'Connell, now residing locally and an accomplished step dancer, will be giving lessons in dancing and it is all free.
Everybody in the parish will be receiving an invitation to attend the official opening and what promises to be a very momentous occasion for Kilcornan. It will take place at around 1pm and it is expected that soccer legend Niall Quinn will arrive early to mingle with early comers. On the day there will be a chance to try out the new all weather facility as a number of blitzes are planned including rugby, soccer and Gaelic football and perhaps some rounders and camogie.