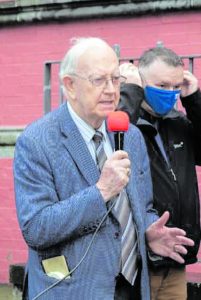 The town of Rathkeale was hit with a double whammy recently by the closure of Bank of Ireland in the town earlier this month, followed by the disclosure that the one remaining bank, AIB has become a service only bank, a cashless financial hub, that will very shortly also close.
But the town's business-people and customers of the bank are fighting to keep it open for business as usual. Rathkeale is unique in that 80% of its economic transactions are done in cash. It seems extraordinary that AIB plans to make this branch a cashless one only. People are struggling to make sense of it. Sean Hennessy, of Hennessy Electrical Stores, Rathkeale told me of his disillusionment with the decision. "It makes no sense to close banks in the town. Our town depends heavily on cash tran-sactions. From here on, our population will more than double with visitors coming back for Christmas, and cash will be used in all our business outlets. We've already had Bank of Ireland close its doors, so it's vital that AIB operates as it always did. We're going to fight this decision all the way"
On Thursday last, a large group of people congre-gated to protest the closure. The anger and disappoint-ment among the locals was understandable, and hardly surprising, given the circumstances. Seamus Hogan, Rathkeale local and radio presenter said,
"We made national news headlines with Virgin Media plus 95fm, 102fm, local newspapers, all our local TDs and Councillors were in attendance, some great speeches from Mrs Breen and Peter O'Donovan. Overall it was well worth it and we have sent a strong message back to Dublin that the people of Rathkeale will not take this ridiculous decision to close our only remaining bank in the town, we know that both AIB and BOI are two of the busiest banks in Munster and obviously at this time of year a lot of visitors to town deal in cash, the decision will cause untoward hardship for our elderly community and huge inconvenience to our many businesses right across the business community. In fact, it is proven that 80% of business conducted in Rathkeale town is done in cash. Our protest today is only the beginning of our campaign to get the bank to reverse their ludicrous decision to withdraw cash services from our town, we will not give up and we plan to connect with other towns and communities to make our voices heard"
Local politicians indicated that the decision to close the bank was a commercial one, and that the government played no active part in it. But since AIB's biggest shareholder, having more than 78% of all shareholdings, is, in fact, the government itself, and by default, the taxpayer, it seems unlikely that government quarters have no input in the decision to close. The belief is that it's in the power of government to stop this move, and locals are not willing to see their town being decimated any further. Richard O Donoghue, local TD posted on social media "Rathkeale and the wider community protest on the removal of withdrawals and lodgements services been taken from their bank . We had a virtual meeting with management in Rathkeale and an executive of AIB. I have requested an in person meeting with the Executive of AIB in Dublin to receive a delegation from the concerned businesspeople and the people from Rathkeale and the surrounding areas. I am still awaiting a response. County Limerick's voice needs to be heard, the people of Limerick need to stand up and voice their opinion through their local and National public representatives! "
"Rural Ireland's towns and villages are being dismantled and have been for many years now. It's time to put a stop to it. Enough is enough. We've put up with a lot, but we're not willing to close our businesses and lose our towns." Sean Hennessy said. "This is only the beginning of the fight. We're taking this all the way"
The last two years have been hard on businesses due to restrictions, lockdowns, and an uncertain market. Considering that many had struggled to return to profit from the crash of 2008, it's a credit to our local businesses that they have managed to stay afloat. Rural towns need businesses, and the prospect of closures is not something any of us would like to consider. Ireland continues to be divided by rural and urban public services, since the concentration of all of these is in major cities. If ever there was a good time to support local, it surely is now. Support of this move by the people of Rathkeale is vital. It may well be only a matter of time until all our local towns will be selected for bank closures. It's time for all of us to stand united in this cause.