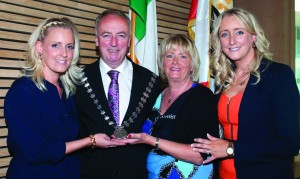 Locally based Cllr. Noel O'Connor was elected Mayor of Cork County Council at a tense annual general meeting of Cork County Council at County Hall last Friday. Just twenty four hours before his election, Cllr. O'Connor relinquished the chain of office as Mayor of Mallow to that body's new Mayor, Cllr John Griffin.
Mayor O'Connor is the first from Mallow town in the history of Cork County Council and he was elected with the support of the Labour Party, Independent Cllr. Noel Collins and the members of his own party Fine Gael to secure 27 of the 48 votes available to see off the challenge of the Fianna Fáil nominee, Cllr, Bart Donegan.
In accordance with a prearranged pact, Macroom based Labour Councillor Martin Coughlan was elected Deputy Mayor.
Cllr O'Connor, who is the first from the Mallow Electoral Area to hold the position since Buttevant's Cllr, Tom Sheahan held office in 2007/08, said his election was a great honour for Mallow and North Cork. "I would like to thank all the people who have sent me good wishes since I became Mayor," he said this week.
Looking forward to working with his Deputy Mayor, Martin Coughlan, Cllr O'Connor said, "I am very happy with Martin as Deputy; I have served on the Council with him for a number of years and have always found his approach to politics refreshing. I am happy that Martin and I will work closely during the year to ensure that the affairs of Cork County Council are conducted in a proper manner".