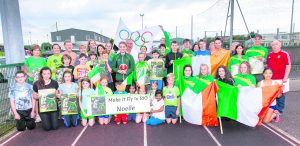 World record holder and Paralympic athlete Noelle Lenihan, who will compete in the Rio de Janeiro Paralympics got a rousing send-off from her fellow athletes in the Charleville based North Cork Athletic Club last week as she bids for further glory at the Paralympic Games in Brazil later this month.
Noelle who hails from nearby Milford already holds the world record and world silver medal from Doha in World Patalympics also has a European Championships gold medal for the discus in the F38 category. Coached by her father Jim since she started in athletics and by Tom Galvin of the North Cork Athletic Club, she has been a member of the latter since 2008 when she was eight years old. "I started running but quickly discovered that this discipline was not for me so turned to the shot putt and only took up the javelin and discus last year after discussing the best options available to me with my Dad and Tom Galvin," said Noelle.
The change to discus has certainly proved fortuitous for the Milford teenager who is mildly affected by cerebral palsy and who is now the only discus thrower in her classification. She has represented Ireland at the European Championships and at the World Championships and medalled at both events.
Making Noelle a presentation on behalf of the club, the chairman Michael Herlihy said: "Everyone in the club and indeed in the Charleville and Milford areas are wishing you to do well in Rio where we hope you will win Olympic Gold. Noelle has been a fantastic ambassador for the club wherever she competes. She is a fantastic athlete and as you can see from the attendance here this evening hugely popular with her fellow athletes," said Michael. He wished her the best and urged her to enjoy the experience in Rio.
Coach Tom Galvin echoed Michael's words and said it was a pleasure to be involved in her training with her father Jim as she was a dedicated athlete. However neither Jim nor Tom will be travelling to Rio with Noelle. Instead she will be assigned a chaperone for the period they are at the Games. Jim, who is a native of Killedy, Co. Limerick said she knows what to do and she will have her chaperone with her at all times. Noelle will be competing on the 17th September and her event will be featured on RTE television.