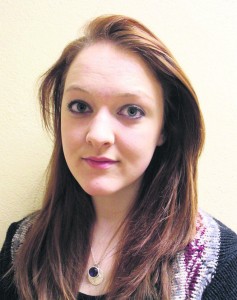 Buttevant songstress Nollaig O'Connor sailed through to the next round of 'The Voice of Ireland' on RTE Television last Sunday night after her rendition of the U2 song 'With or Without You' wowed the four celebrity coaches who vied with each other for the chance to mentor her in the coming rounds of the competition.
Speaking afterwards, Nollaig said she was very nervous and felt she could have sung better, but was delighted she had picked Sharon Corr as her coach.
As well as being a singer, Nollaig also plays piano and violin, and to audition for 'The Voice of Ireland' she went for auditions in Dublin. She was called back for more auditions and was then called for a blind audition, but nerves got the better of her, and she decided not to go. However, the producers phoned and persuaded her to have a go, so after travelling to Dublin once again, she had just two short chances to rehearse before being thrust before the cameras and lights to perform for celebrities Brian Kennedy, Sharon Corr, Niall Breslin and Kian Egan. Though very nervous, her version of 'With or Without You' quickly won over all four judges, and when Nollaig was put on the spot to pick a coach, she chose Sharon Corr who promised to help her use her nervousness to her advantage when singing.
In the next stage of the competition in a few weeks, Nollaig will sing in a duet, and the song she will sing is 'Wild Horses' by the Rolling Stones. If successful in the next couple of stages she will go forward to the live final in the Helix, Dublin, on March 4th.
Nollaig said she was delighted to have done so well in the competition so far, and was learning a lot from the experience. She also said she hoped she would get a chance to play the piano on the show. 'The Voice of Ireland' is broadcast on RTE One Television every Sunday night at 6.30p.m.