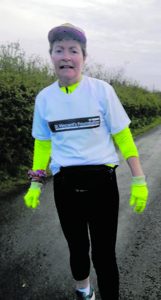 Huge congratulations to Norrie Sheehan, Mountcollins who on Saturday last, the 24th of October completed the final part of her two part challenge and completed a Marathon.
On October 9th, Norrie completed the first part of her challenge cycling 63km from Killarney to Mountcollins. Norrie has been training for months for what would have been the Dublin City marathon.  Due to Covid-19 this was changed to running it virtually and she had her route planned around Mountcollins and the surrounding areas.  Unfortunately last week with further restrictions implemented it meant Norrie had to change her route again and run the 26.2 miles (42.1km) within a 5k radius. For those of you that know Norrie you will know that postponing it wasn't an option. Restrictions also meant that family including her daughter Aisling, son in law Gregg and grandchildren Ella and Will sadly could not travel from Cork to be there to support her on her route and as she crossed the finish line.  Her sister Joan (who has been a constant support) rose to the challenge and ensured Norrie was supported along the route providing much needed refreshments and also ran a mile or five with her (socially distanced of course). A few minutes after midday, approximately 6 hours after she set off Norrie could be seen coming up the hill at Knockulcare towards Mountcollins Community Centre where she completed her marathon by running a lap of the GAA field. She was cheered on by a very small number of family and friends.   As her family, to say we are proud of her is an understatement.  And while many of us supported from afar, the outpouring of support from some who don't even know Norrie shows us that community spirit near or far is very much alive and for that we are very grateful.
We know her determination to keep raising vital funds for The Liver Unit in St. Vincent's Dublin kept her going.   And Norrie says that in her thoughts throughout the run was a very special local woman, Helen Wrenn who is patiently awaiting her second liver transplant.   We really hope that Helen gets the news she deserves soon.
While this challenge for Norrie was certainly about raising vital funds for a worthy cause it is equally about highlighting the importance of organ donation.
Again, thank you to everyone for all the support and donations and spreading the word. Donations continue to be accepted until Nov 24th via sponsor cards, or through the idonate page www.idonate.ie/norriesomewoman foronewoman This can also be found on Aisling Sheehan's Facebook page. Thank you all.