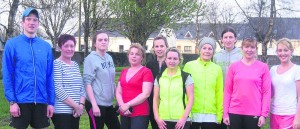 The first event of the outdoor track and field season takes place this weekend in the form of the Leevale AC open sports at the CIT athletics track. There is an adult programme on the Saturday with the juvenile events taking place on the Sunday. We will have a strong contingent of juveniles competing on Sunday with the Tiny Tots race getting the programme under way at 12pm. This 50m event for the Tots will be followed by events for all age groups from under 8 to under 17. There is only a 1500m for the Junior men on the Saturday, therefore our juniors will only be able to compete at senior level for the shorter distances.
Proper Preparations a Priority
On Sunday, all families will meet at Charleville Town Park at 10am in order to be at the track soon after 11am in time to be warmed up and ready to compete by 12 or just after. All weather conditions should be expected, and the usual preparations made. Packed lunches need to be brought for after the events, 5mm spikes in spike shoes, singlets packed with shorts worn under tracksuits for warm-up. Running shoes are worn for warm-up. This is just a reminder for those who have forgotten the level of preparation needed for race day.
We will need as many adults as possible to be in attendance and to help out on the day, as it is likely that races will be run off quickly and on schedule, therefore all juveniles will need to be brought to the start of their events on time and collected after to return to the central base established on the day. If there is no rain we will set up camp on the grass banks away from the noisy and busy stand area, so bring folding chairs if you have them. It should be another very enjoyable day of athletics to get us started into track season. We hope that all our athletes are looking forward to participating.
Fit for Life Programme continues momentum
Our dedicated programme leaders are reporting growing numbers and what is hoped to be even greater numbers again after the Easter holidays are finished. We began our new Fit For Life programme just 2 weeks ago for those who are complete beginners to jogging/running. The aim of the programme is to get people started and to establish a regular routine which they can progress and develop over a number of months.
Now is the best time to start this routine, therefore we would encourage anyone interested to come to the Town Park on Thursday nights at 7pm to give it a try with a very friendly bunch of beginner runners. Instruction, advice and guidance will be provided by runners who have started from scratch themselves and built themselves up over the past couple of years to becoming consistent runners. We hope we can show participants all that participation in the sport has to offer, not just in terms of physical fitness but also in terms of healthy social outings to fun runs and being part of a positive group of runners.
Fixtures
The dates of the Ballyhoura series races and Cork athletics league will be posted soon once confirmed. For now we would just like to continue to highlight the dates for juvenile events below to all parents who will have children competing this summer. With the much more streamlined structure of track programme this year, it is thought that we will have much shorter yet more enjoyable visits to the CIT track.
April 14th and 15th Leevale Open Sports – CIT Cork
April 15th AAI 10km Road Championships – Phoenix Park, Dublin
April 15th Cobh 10 mile
April 19th Ballintotis 4 mile
April 22nd Bride 10k Rathcormac, Fermoy
April 29th Riverstick/Kinsale Open Sports
May 6th and 13th County Juvenile Athletics Championships – CIT Cork
May 7th Munster Junior and Under 23 T&F Champion-ships – Castleisland
May 11th South Munster T&F Championships
May 19th Munster Schools T&F Championships
June 2nd Irish Schools T&F Championships
June 9th and 10th Under 9 to 13 Munster Juvenile Championships Cork IT
June 17th Munster Senior and Masters T&f Waterford
June 30th and July 1st Under 14 to 19 Munster Juvenile Championships Cork IT
All secondary school athletes are reminded to ask their teachers for entry forms for the various schools events listed above if the school does not offer the chance to compete as normal practice.
Training Schedule
Monday evening training sessions have now moved to the Town Park in Charle-ville. Our Wednesday evening sessions will remain at the athletics track at the usual times as below for the various groups. Our new Fit for life group continues on Thursday evenings in the Town Park for new people who want to try running for the first time or to restart their fitness efforts.
The following times are those to be used by:
Little Athletics group – Age 5 to 7 years old – Wednesdays 6pm to 7pm
Kids group – Age 8 to 11 years old – Monday and Wednesday 6pm to 7pm
Teen Group – Age 12 to 16 – Monday and Wednesday 7pm
Teens and Adults Group – Monday and Wednesday 7.30pm
Fit For Life Beginners Group – Thursdays 7pm Town Park, Charleville
We currently offer coaching in a variety of running and throwing events. Any new athletes will be given a level of training which is suitable to their level of fitness. Planning is at an advanced stage to implement a new Fit-for-life group for beginner runners and we are working out a possible series of beginner running events over the summer to invite new runners to participate in events and in training.
Similarly we are planning a series of events in a number of local primary schools. We hope as many of our members can get involved and enjoy supporting and participating in these events throughout the summer which have such a positive affect on our local community.
Please contact club secretary and coach Michael Herlihy 086 3168954 northcorkac@gmail.com for any further details. New members are always welcome to come and try out.