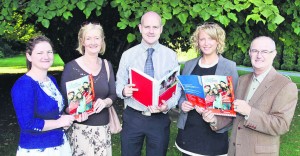 The North Cork Enterprise Board (NCEB) officially launched their Schools Enterprise Programme for 2012/2013 last week at Springfort Hall Hotel, Mallow. Business teachers and transition year co-ordinators from second level schools throughout north Cork gathered at the event along with Tadhg Curtis, Chairman of the North Cork Enterprise Board, Michael Hanley, Manager of NCEB, Joan Kelleher, Business Adviser, Board Member Michael McGrath, Emer Howard and Yvonne O'Neill, Schools Enterprise Co-Ordinator. Yvonne O'Neill gave a presentation to the teachers present on the range of enterprise activities organised for second level schools this year.
These activities include:
* Student Enterprise Awards, a programme that allows students set up and run a mini-company over the school year to learn about entrepreneurship.
* A 'Dragons Den' style event where students are given the opportunity to come up with an innovative business idea and pitch to a panel of judges.
* In-school talks by local business people from north Cork.
* An enterprise case study competition.
The Student Enterprise Awards is the flagship programme of the NCEB Schools Enterprise calendar. The programme encourages teenagers to consider entrepreneurship as a real future career choice and gives them the invaluable opportunity to learn about real life business while participating in the programme. This year schools from Boherbue, Millstreet, Fer-moy, Buttevant, Mallow, Doneraile, Kanturk, Mit-chelstown and Charleville will take part in the programme. Each year over 16,000 students nationally take part in the competition. Last year Coláiste Treasa in Kanturk was featured in a special RTÉ Nationwide pro-gramme on the Student Enterprise Awards programme.
Speaking at the launch, Manager of North Cork Enterprise Board Michael Hanley said "We are looking forward to another successful year with the Schools Enterprise Pro-gramme. Last year saw the number of students taking part in north Cork almost double. The Enterprise Board is really seeing the long term benefits of the programme, with more and more start-up businesses in the area being created by students who previously took part in the programme while at school."