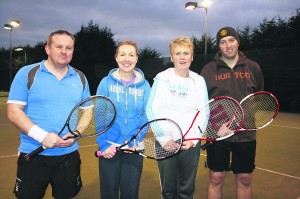 The Grand Finals of the North Cork Tennis tournament took place in Mallow tennis club on Sunday 27th November. Players from clubs across north Cork have been competing since September in this annual event, organised this year by members of Hazelwood tennis club. The teams were divided into three divisions played on a league basis, with the top teams in each division meeting in the Grand Final. The competition involved teams of four; two men and two ladies. The format consisted of a men's doubles match, a ladies doubles match and two mixed doubles. In the event of a tie, a further sudden death tie-break set decided the eventual winner. All three finals were close run affairs and all needed the sudden death tie break set to determine the winners.
In Division 1 Dromahane and Mitchelstown could barely be separated. After nearly four hours of tennis, the team from Mitchels-town finally came through by the narrowest of margins, winning the deciding set by 7 games to 6.
Following a really close league competition, teams from Milford and Kilworth contested the Division 2 Grand Final, with Milford prevailing by 6 games to 4 in sudden death.
Having had to wait for the other finals to complete, before they could take to the court, teams from Milford and Whitechurch battled it out under floodlights for the Division 3 title. Eventually, Milford were victorious by 7 games to 6 in sudden death.
Each of the participants were presented with an individual framed photograph of Doneraile Park, taken by Hazelwood club members on Christmas Day 2010, during last year's big freeze. The photographs were individually signed by the photographers and hand-framed by local picture framers (and tennis players) Derry and Fionnula Vereker.