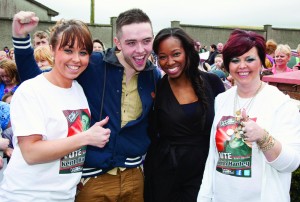 The Voice of Ireland comes to a climax on this Sunday evening when the last four battle it out for the coveted recording contract and the Voice of Ireland title. Among the four final contestants is Keith Hanley from Charleville, who is a member of Team Jamelia, and who has captured the hearts of viewers across the country who have been voting for him for the last number of weeks. On Sunday, it is as it has been for the last four, weeks, the votes of the public that will decide who will walk off with the top prize.
The emerging Charleville star who is a student of Early Childhood Care and Special Needs in Mallow College of Further Education and works part time with St. Joseph's Foundation, Charleville in the respite facilities looking after children with special needs as well as doing voluntary work in music and dancing at the Holy Family School, Charleville.
The young man with the strong south and west Limerick roots returns to the Helix this Sunday evening for what could be a life changing experience should he succeed in being crowned the Voice of Ireland. As the adrenalin and excitement coursed through his veins this week he acknowledged the support of his mother, sister, grandparents, family and the many friends who have supported him on this wonderful odyssey.
"Please please get on my train and let me reach out and grab the jackpot" is his final appeal to his many family and friends and the public in Limerick and Cork.
On Sunday night, Keith will be joined in the Helix by his mother Alice, his only sister Eileen, a hairdresser with Mellow Yellow in Limerick his grandmother, Noreen Gallahue and a number of friends who were lucky enough to secure tickets. Many more are making the trip to the capital to support the affable young man from the corridors and precincts of the Helix.
It is all in the hands of the public so when Kathryn Thomas gives the green light on Sunday evening for the voting to begin, get texting and ringing in support of the popular young man's bid for stardom.