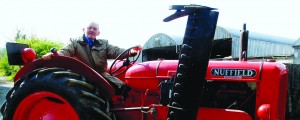 Recently I visited the farm and garage of Donie Moloney with his 1952 Nuffield tractor in Kilmanahan, west of Abbeyfeale on the Kerry border. Donie has been in the tractor and machinery business all his life and right now he is 90 years young. He has a dairy farm and also a garage concentrating on tractors.
He started off many years ago, in 1952 to be exact, and bought his first tractor, a Nuffield. He purchased this tractor new at the time for a purchase price of £620 (those were the days before the Punts or Euro). He didn't have to go to the bank or any lending institution for the cash as his father gave him the money on an understanding that he pay him back over 4 years. So he purchased his Nuffield then and he still has that very same tractor today. It never left his ownership so he still has the original tax book registered in his own name and 60 years later he can sit on this machine and it starts off the button at the very first attempt. The reg number of this is IN 9871. The tax on that tractor was 5 old shillings. He tells a story of once being pulled by a guard for having only one front light. He tried to explain to the guard that the tractor was imported from England where it was legal to have just one headlight but the guard was having none of it.
The fuel is a mixture of petrol and T.V.O. It has two tanks and all associated filters etc. It starts on petrol and after it warms up you switch to T.V.O. That's the tricky bit, just knowing when to change over. Back in 1952 petrol was costing 2 shillings and 4 pence a gallon and T.V.O. was costing 1 shilling and 4 pence per gallon. You could fill the 300 gallon T.V.O. tank for 16 old pounds.
At that time he mainly did farm work for hire. He fitted a side mounted mowing machine to his Nuffield which was positioned between the front and rear wheel, which it still has today. No looking behind you, it was all happening there in front of you. It had a very complicated drive system using a pulley, a shaft and reduction gears. It also had all the other implements used on farm work.
He had a trailer attached of course and the tractor being 42 H.P. was capable of shifting a load of about 6 ton. He drew many loads of sand from Ballybunion, which was used as manure for the land. He would take a load of pigs to the slaughter houses in Limerick city and always had a back load, which could have been meals or any type of provisions. He would also take cattle to the local fairs in Listowel and Newcastle West and as he says he would do anything where a bob could be made.
He could go on and on about his experience and what he did with his tractor, but one of the main things he will tell you is that he treated it properly and that's why it's still running perfect today on the same engine that has only had a "set of compression rings replaced". When he changed the oil he always flushed the engine with T.V.O. before he put in the new oil, ensuring that everything was spotlessly clean inside. He also operated a threshing machine and had a plough attached which is still perfect today.
He is now very big into vintage tractors and regularly travels to England to Vintage and Trade Shows as well as to many Vintage Displays locally. He has 21 tractors at the moment; 13 Nuffield, 5 Leyland and a few odd ones, all vintage. He has a tractor with just one front wheel and one with a double front wheel.
Donie Moloney has also moved with the times and the modern mod cons. He has a refrigerated milk tank installed but has no bulk collection; instead he cools his milk in the static tank, pumps it into his road tank and goes down the road to Fealesbridge Creamery. I was talking about taking a few photos of different tractors, he said "hold on", went to a cabinet, took out a small digital camera (H.P.), took a photo, put the camera on a docking station and printer, pressed a button and we had a digital photo straight away as he called it a photo from the magic box. At 90 years he is certainly not at all fazed by technology.
This man is a mine of information on all tractors and much more. I was thrilled to visit and speak to this gentleman. I am sure that many of you will see him at many vintage displays throughout Limerick, Kerry and Cork for many years to come. Don't be shy to approach him and hear what he has to say and I assure you that you won't be disappointed