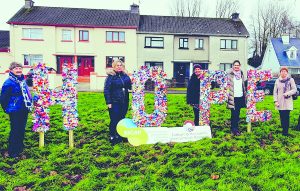 'Hope is being able to see that there is light, despite all of the darkness' Desmond Tutu
West Limerick Resources is delighted to have had the opportunity to be involved in the One Million Stars Project. The One Million Stars (OMS) project is part of a global movement that brings local communities together to engage in a creative projects that demonstrates support and solidarity to women who face violence.
The One Million Stars to End Violence project was established by Maryann Talia Pau, a Samoan- Australian artist in response to the rape and murder of an Irish woman in Melbourne. In the Samoan culture, the star is a symbol of light, hope and solidarity. Since then the One Million Stars network has become global. Maryann used the creative act of star weaving to rebuild trust amongst communities and since then has invited groups around the world to get involved. In 2020 Siobhan McQuillan, working with Amber Women's Refuge, brought the project to Ireland, to Kilkenny, to raise awareness about domestic violence in Ireland. Since then, it has been extended to many counties including Limerick.
One Million Stars
Ireland
1 in 5 women in Ireland have been abused by a current or former partner. Women from every cultural and social background can and do experience violence. The cause of domestic violence is the same in all com-munities, it is an issue of gender equality and abuse of power and control (Pavee Point, 2019). The term 'domestic violence' goes beyond physical violence and can also involve emotional abuse, the destruction of property, isolation from friends and family, threats to others including children, stalking, and control over access to money, personal items, food, transportation and the telephone. Dom-estic violence is a major issue that profoundly affects the physical, emotional, social and financial wellbeing of individuals and families (TUSLA).
With the arrival of COVID 19, and a dramatic rise in domestic abuse, we saw the launch of the #StillHere public awareness campaign to highlight supports for those experiencing domestic abuse. Through Operation Faoiseamh, the Garda are reaching out to victims of domestic abuse with the aim of keeping those who may be at risk, safe within our comm-unities. In recent weeks, the senseless murder of Ashling Murphy shone a light on gender-based violence with women across Ireland and the world sharing their stories of abuse and harassment. The National Women's Council (NWC) has said the nationwide outpouring of grief and anger must be a watershed moment in ending violence against women. The One Million Stars project aims to collectively take a stand towards ending violence while using the power of weaving to build community resilience and hope for a safer future for all. Through working together to weave and display our stars, we will show solidarity towards women experiencing domestic violence and highlight the supports they can access through ADAPT Domestic Abuse Services.
One Million Stars in West Limerick
In 2021 the West Limerick Primary Health Care Project for Travellers together with colleagues in the Social Inclusion and Community Activation Programme (SICAP) and Jobs Club at West Limerick Resources teamed up with the Hunt Museum, ADAPT Domestic Abuse Services, Mental Health Ireland, CWELL, Limerick City and County Council, Lawless Flowers and most importantly with the people of West Limerick to develop a One Million Star Weaving Network and aimed to weave 5,000 stars. This goal was exceeded by far with contributions from individuals and groups from all over West Limerick including members of the West Limerick Mental Health Association, Athea Craft Group, Deel Arts Askeaton, Adare Women's 2020 Club, Crafty Corner Newcastle West and the 11th Limerick Newcastle West Scouts. Star weavers have reported many positive benefits from participating in the project including meeting new people, learning a new skill, getting more involved within the community and reducing isolation through an increased sense of belonging. By practising kindness in our personal relationships, our work-places and neighbourhoods we can create a more inclusive and safer world.
West Limerick Resources are delighted to finally reveal the West Limerick One Million Stars display which has been installed across from the Long Court House Hotel in Newcastle West. A word of thanks to Limerick City & County Council for allowing us to display our stars at this prominent green site. Hundreds of stars have been used in the display which were carefully woven by the West Limerick community with the support of the HSE Health and Wellbeing team in the Mid-West. Each star symbolises light, hope and solidarity against violence. Huge thanks to everyone who participated in the project for helping us create awareness and spread hope for a future free from violence and abuse for all in our community.
For support contact the Gardaí on 999, 112 or contact ADAPT 24 Hour Helpline: 1800 200 504
This project was a joint initiative between SICAP WLR, Job Club and West Limerick Primary Health Care Project for Travellers. The Social Inclusion and Community Activation Programme (SICAP) 2018-2022 is funded by the Irish Government through the Department of Rural and Community Development and co-funded by the European Social Fund under the Programme for Employability, Inclusion and Learning (PEIL) 2014-2020