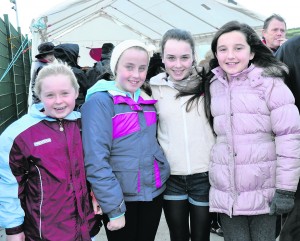 Despite heavy rain and high winds people turned out in their droves on Saturday to see Munster Rugby players Simon Zebo and Ian Nagle officially open Broadford's new community playground.
The custom designed playground is located adjacent to the community sports field and was developed by Broadford Playground group a subcommittee of Broadford Community Development with the support of grant aid of over €137,000 from West Limerick Resources under the Rural Development Programme. Providing outdoor play facilities for children aged one to thirteen years, the playground is a welcome addition to the rural community who recognised the need to provide facilities for the large number of young families living locally.
Speaking at the launch, group Chairman Pat Boyce spoke about the work that went into developing the facility and thanked West Limerick Resources for their support throughout the process. Mr. Boyce explained that the committee members conducted extensive research to identify the best and most suitable equipment for the new playground and feels that the results speak for themselves with positive feedback coming from the wider community.
Following this, West Limerick Resources board member Sheila O'Regan congratulated the community acknowledging the active role they have taken in the development of a number of other local facilities including the Voluntary Housing and Daycare Centre, Community Childcare Facility and Broadford Enterprise Centre as well as continuing performing well in the annual Tidy Towns Competition.
West Limerick Resources Project Officer Eleanor McLoughlin echoed this saying, "We have been delighted to support Broadford on a number of their projects of which the playground is just another fine example of community vision and hard work. The attention to detail in this playground is second to none and every effort has been made to ensure that the facility is safe and secure. I have no doubt that it will be enjoyed by the community for many years to come."
Following a blessing by Fr O'Dea, Munster rugby player Simon Beho spoke briefly to congratulate the community on their new playground before cutting the ribbon to officially open the playground with fellow player Ian Nagle. Both players were warmly welcomed by the local community with whom they took photographs and signed autographs.
Despite also receiving a donation of €5,000 from the JP McManus Foundation towards the development of the playground, there is still a shortfall of almost €30,000 to be raised. Broadford Community Development is now planning a series of fundraising events and seeking the community's support in their efforts.