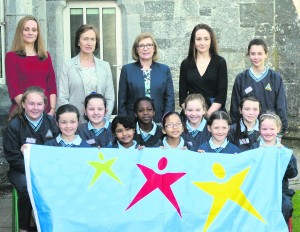 The Minister for Education and Skills Jan O'Sullivan TD today launched Active Schools Week (ASW) 2015 in Our Lady's Abbey, Adare, Co. Limerick, supported by the Minister for Health Leo Varadkar. Jointly sponsored by the Department of Education and Skills and Healthy Ireland, it reflects their commitment to the promotion of students' well-being and interests. All schools, primary, post primary and Youthreach centres are encouraged to include an Active Week as part of their annual school calendar. It is also an integral part of the Active School Flag initiative, which recognises schools that strive to achieve a physically educated and physically active school community.
Our Lady's Abbey, Adare was one of the first schools to engage in the Active Schools Flag initiative and was today the first school in Ireland to be awarded a third Active Schools Flag.
In commending the school for their fantastic efforts in promoting physical activity Minister O'Sullivan said: "I would encourage schools across the country to get more active. It is a wonderful opportunity for promoting physical activity and raising awareness of Physical Education. I hope that all schools will get involved and I would ask that schools and parents encourage students to participate. We know how important it is to be physically active and I believe that Active Schools Week can enhance the PE experience of children and young people."
Minister for Health Leo Varadkar welcomed the launch of Active School Week saying: "I'm really keen to promote more physical activity in schools. Children who are active from an early age are more likely to live healthy and happy lives and society as a whole will benefit. Sport and physical activity have so many benefits for physical and mental health and wellbeing. The Active School Week is a great opportunity for the whole-school community to work together and be more physically active, and create a more Healthy Ireland."
Visitors to the launch of Active Week were treated to a taste of what an Active School does. Our Lady's Abbey playground was busy with activity as the pupils displayed for their guests the yard leagues and games that are part of daily life in the school. The school has been an Active School for ten years and the huge commitment to the promotion of activity, before, during and after school, was clearly visible to all present. A broad curriculum, teaching Aquatics, Gymnastics, Athletics, Games, Dance and Outdoor and Adventure Activities is fully taught in the school. The school also offers a comprehensive range of extra-curricular activities, all designed to find an activity suitable for each child. Representatives from Active Schools, Healthy Ireland, Ireland Active, the Federation of Irish Sport, Limerick Sports Partnerships and Mayo and Limerick Education Centres were hugely impressed with the commitment to integrating physical activity into everyday school life. Indeed, Minister O'Sullivan described the school as one of the leading Active Schools in Ireland.
Minister O'Sullivan also presented the school with a Digital Schools of Distinction Award which recognises schools who excel in the teaching and learning of ICT across the curriculum. Neil O'Sullivan from Digital Schools described the school as highly innovative and visionary in promoting ICT. It was noted by the Minister, that very few schools in Ireland have the achieved the status of being an Active School and Digital School of Distinction and she congratulated the whole school community of their huge efforts to promote Sport and ICT.