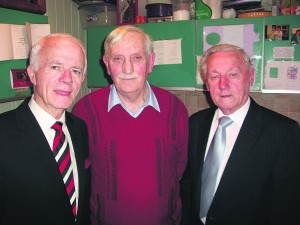 It was a case of sing your song sweet music for Charleville's P.J. O'Driscoll on Wednesday night last when he won the Mitchelstown heat of the over sixties talent competition at T.O Park. P.J's song Raglan Road took him to the top and he now goes on to represent the T.O Park in the semi-finals to be held at City Hall Cork on April 15th.
It was a brilliant night at the park. According to the music man MC and chief organiser Mr Paddy O'Brien it was the best show he and his judges attended this year. There were ten performers and in the words of Paddy himself they were all winners as the talent and presentation was extremely good. The other contestants were: Peggy Hennessey, Johnny Dunne, Nellie Fitzgerald, Liam Walsh, Nora Finn, Mike Fahy, Tony Power, Gerry Lane and Christy Nolan, we thank them for their bravery and being such good fun.
Two friends of Paddy's, mother and son Agnes and Liam McCarthy arrived from Cork to entertain the crowd while the judges were making up their mind. What a pair they turned out to be, Agnes, at 97, amazed the audience with her unique brand of song and comedy. Her son Liam, a former winner of the contest took the mic and together they brought the house down.
Music backing for the night was provided by Tim O'Shea of Mitchelstown, thank you Tim for a job well done. Thanks also to several people who brought loads of food and goodies for the tea afterwards. It was badly needed and so much appreciated as the crowd was so big.
All roads now lead to Cork on April 15th. P.J can be assured of big support from the Park. Tickets are €15 and this money goes directly to the Irish Heart Foundation.
If you would like to go call T.O on 025-84372 and leave your name and number of tickets you require.