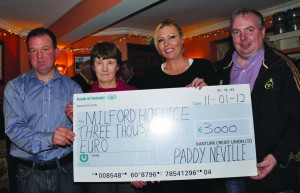 A West Limerick man' s exploits that saw him ride on the world renowned Cheltenham course last November had a very happy sequel at the weekend when a cheque for €3,000 was presented to Milford Hospice.
Paddy Neville, an Askeaton based horse trainer, participated in a charity race over the famous course in the November Open meeting. To enter for the race, Paddy had to undertake to raise £2,500 for the English based Greatwood Special Needs Children's Hospital. The caring Askeaton man decided that anything that was raised in excess of that figure should go to Milford Hospice. "A couple of lads that I train for in England helped me collect some money and I got great support locally in Askeaton and Ballysteen and from around West Limerick and North Kerry," he explained.
Friends, family and many from West Limerick and North Kerry travelled over to see Paddy ride in the race in which there were twelve runners. Paddy rode his own horse Chrisdon Lady, a winner at Listowel last year, into fifth place in the one mile, six furlong race.
"The chance to ride around Cheltenham was a wonderful experience." he told the Weekly Observer this week.