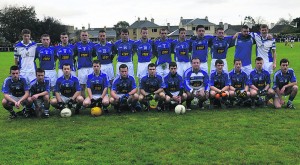 By Johnny Walsh
Seán Finn's…………………………….1-11
Glin……………………………………………………0-9
A power packed display, full or passion and pride, paved the way for Seán Finn's to gain county glory after a lapse of 20 years over luckless Glin in ideal conditions in Foynes on Sunday.
The game was a thriller, full of brilliant indi-vidual displays, and in the final analysis it was Seán Finn's ability to take their chances, epitomised by 7 points from man of the match Eoghan O'Connor, that was the difference between victory and defeat. Glin on the other hand, despite having the advantage of winning the midfield battle, failed to convert their territorial advantage into scores and unfor-tunately were plagued by inaccuracy and inde-cision. On the day everything went right for Seán Finn's while everything went wrong for Glin. The St. Senan's club are to be highly complimented for having everything in perfect order for the historic occasion.
The pitch was in brilliant condition, the stewarding was perfect and no stone was left unturned in their meticulous attention to detail, as both teams were announced on the public address system before the playing of Amhran na bhFiann. An electric atmosphere permeated the ground before referee Joe Kearney threw in the ball. Wind assisted Glin looked the better team in the opening minutes and following good work by captain Padraig Costello, Mark Culhane floated over the opening point. Shane Culhane was marginally wide of the target following good work by Jack Fitzgerald. A good movement involving Barry O'Riordan and Eoin O'Donnell resulted in Keith Hartnett being fouled and Eoghan O'Connor pointed the resultant free. The teams were level for the first and only time in the game. A minute later Sean Finn's received a major boost. A probing cross by Eoghan O'Connor was pulled on by Eoin O'Donnell, Seán Lyons brought off a fine save but the ever vigilant Paul White was on hand to boot a ground ball to the net from close range for the game's only goal. Good work by the highly talented Patrick Sheahan resulted in Keith Harnett being fouled with Eoghan O'Connor slotting over his second pointed free. Midway through the half Damien Quaid set up Eoghan O'Connor for his opening point from play. The closing quarter of the opening half was almost totally dominated by Glin. A probing cross field ball by Mark Culhane was just deflected wide of the target. A pointed free by Mark Culhane following an indis-cretion by a Sean Finn's defender cut the deficit to 4 points as the Seán Finn's defence were under constant pressure. Shane Culhane was wide of the target following a foul on Padraig Scanlon before a clever side line kick by Ger Lyons found Philip Moloney who shot the best point of the half.The half time score read Seán Finn's 1-3, Glin 0-3.
The second half was just 22 seconds old when Eoin O'Donnell combined with Eoghan O'Connor for a magical point. Following good work by Edmond Horan and Jack Fitzgerald, and a tremendous solo run by Padraig Scanlon culminated in a fine point. A punched clear-ance by star defender Seán O'Shea, a quick delivery by Paul White and another gem of a point by Eoghan O'Connor gave Seán Finn's a 4 point advan-tage as the game entered the 5th minute. Glin literally owned the ball for the next 8 minutes but over elaboration and inaccuracy deprived them of 3 scoreable points when the game was delicately poised. Glin broke the deadlock in the 13th minute following fine play by Ger Lyons and Brian Donovan, Philip Moloney lofted an inspirational point. The game was now a cliffhanger. Seán Finn's maintained their mome-ntum with Seán White rifling over their 6th point following fine play by Darren Jones. Glin rallied again with Jack Fitzgerald scoring a magical point following good work by Ger Lyons and Philip Moloney. A minute later Seán Finn's restored their 4 point advantage with a pointed free by Eoghan O'Connor before Mark O'Sullivan gave them breathing space with another fine point in the 18th minute. Glin refused to panic and rallied again. A brilliant movement began by Tim Scanlon was finished with panache and style by a point from Philip Moloney left a solitary goal separating the teams as the game entered the 25th minute before Philip Moloney was wide of the target as Glin piled on the possession. A tremen-dous block by the sterling Patrick Sheahan prevented a certain goal before Ger Lyons reduced the deficit to 2 points with 3 minutes of ordinary time remaining. Seán Finn's had soaked up the pressure and finished with a flourish with a brilliant hat-trick of points courtesy of Eoghan O'Connor in the 29th minute and a brace in injury time from Stephen Power and Keith Harnett to bridge a 20 year gap and emerge as deserving county champions. Seán Finns' supporters and players were over-whelmed with joy when Joe Kearney blew the final whistle. Chairman of the Football Board, Seán McAuliffe, thaned both teams and officials before presenting the trophy to a delighted winning captain. Keith Harnett who in a very passionate speech said "he was a proud Rathkeale man and all the developments in the club since 1991, brought this day to fruition." He remem-bered especially Mike O'Sullivan, Paul (Ducie) Hogan and Molly Frawley who "were looking down from above." He thanked the manage-ment team of Brian Nolan, Seán Harnett and John Lyons and Mary Sheahan for first aid and Michael Barrett for moulding the team last year. Team mascot young Brian White was delighted as Keith Harnett called for three rousing cheers for Glin. Overall a great occasion and all western Gaels wish Sean Finn's the best of luck in the Munster Championship.
Sean Finn's: Jonathan Mooney, Seán O'Shea, Gerry Enright, Shane Hourigan, Darren Jones, Patrick Sheehan, Paul White, Keith Harnett, Damien Quaid, Sean Sheahan, Mark O'Sull-ivan, Johnny Markham, Eoin O'Donnell, Eogh-an O'Connor, Barry O'Riordan. Subs: Seán White, Stephen Power.
Glin: Seán Lyons, Shane Fitzgerald, Brian Mulroe, Tim Scanlon, Brian Donovan, Philip Moloney, Padraig Cost-ello, Edmond Horan, Jack Fitzgerald, Paddy Fitzgerald, Andrew Woods, Oliver Wallace, Ger Lyons, Mark Cul-hane, Shane Culhane. Subs: Padraig Scanlon, Gary Culhane and Pat Madigan.
Referee: Joe Kearey, Mungret.