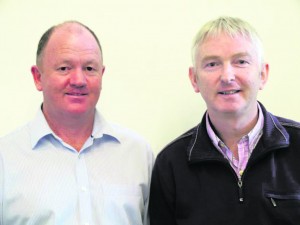 Jim Ryan and Tournafulla native Pat Broderick are two Dublin based members of the Eircom team. Pat works out in the NMC in Citywest while Jim is a field technician in South Dublin, but for the guts of three weeks in September they will be on a mission to bring much needed humanitarian aid to the poorest country in Europe when they head off as part of the CWUHA annual convoy to Moldova.
The convoy has been going for twenty years now, Pat says. "Eircom started getting involved about 7 or 8 years ago with the workers from the Royal Mail and British Telecom. Now the convoy is about 10 trucks long all supplied with radios from BT and all loaded up with wish lists garnered from the local charities on the ground. MAD-Aid being the one we are liaising with in Moldova this year."
A look at the list brings no surprises when you con-sider what the two lads will be delivering to an orphanage. Baby wipes, pampers, clothes and shoes and other sundries that we take for granted are what these orphanages desper-ately need. "They get little or no funding from the government, Jim explains, "and without the generosity of the likes of the staff at Eircom they would be in even worse situation." Jim and Pat both remember previous trips to Bulgaria where conditions were bleak. "I remember the smell and the atmosphere of the orphanage the most, Jim Ryan recalls. "There were a lot of children being cared for by a very small number of staff. A lot of them have disabilities and it's very harrowing. But we do make a difference." Jim recounts a story of children sleeping in card-board boxes on concrete floors. "But that's all changed thanks to our efforts," he counters. "Now those children all have beds and bedding, and a simple thing like a washing machine has changed their lives forever. It's trans-formations like these that make it all worthwhile, to bring even a small amount of normality into the lives of those who have very little."
Pat, who hails from Tour-nafulla but has lived in Lucan for nearly 30 years, is a veteran of three trips. Jim, originally from Tipperary but now living and working in Ballyboden, has been on the convoy once before, in 2013. So they know what to expect. "It's going to take the best part of a week to get there. There's a lot of red tape and border crossings to negotiate on the way too and we mostly stay in motorway motels as we cross the continent," Jim said. "The roads deteriorate significantly when you leave the EU too," remem-bered Pat. "In some places the roads will have tyre ridges worn into them like inverted railway lines so you can't even steer your truck properly."
Last year saw a lot of neg-ative publicity for charities but the two engineers are adamant that this shouldn't apply to the CWUHA effort. "Every penny we collect here we turn into items on the list," Jim explains. "We load up the truck which is supplied by Eircom and we drive to our destination filling up with diesel sponsored once again by Eircom. There are no administration costs and every penny goes to the orphanage."
CWUHA are based in Manchester and is staffed by retirees from the Royal Mail and BT in a premises donated by the Royal Mail. BT provides broadband and telephone lines so once again the administration cost is negligible. For the last 20 years this organisation has been sending much needed aid to poverty-ravaged areas of eastern Europe and for the past eight years has included an Eircom contingent. As our two ambassadors complete their final preparations ahead of their September departure it's still not too late to help those who have very little. You can donate to the charity by using the bank details on the logo below. Any amount you can give will be greatly appreciated by some of the poorest children in Europe.
The CWUHA are also involved in bringing a little Christmas cheer to Our Lady's Children's Hospital in Crumlin. "Every year we bring Christmas presents to the sick children in Crumlin and brighten their lives up," Pat explained. "Having a sick child can place a sizable financial burden on families and may even force parents to reduce working hours or even give up work altogether, so by bringing presents to the children we're help relieve a little of the burden and making some children very happy." Eircom's two real life Santa Clauses will be bringing Christmas early to dozens of children in September. "We always bring a load of sweets for them too, you should see the excitement on their faces when we arrive, it's the little faces that make it all worthwhile," and with that Pat and Jim are back to collecting the funds that will change lives.