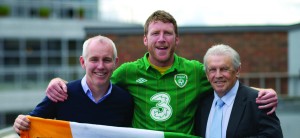 The Euro 2012 finals saw the Irish supporters winning the prize for best fans, but if there had been a prize for most dedicated fan Pat Fitzgerald from Abbeyfeale would surely be in contention.
Setting off from Cork with just a backpack, a tricolour and his trusty thumb, Pat hitch-hiked his way to the finals, getting lifts from Cork to Rosslare, then from Fishguard to Cardiff, London and Dover, from Calais to Holland and then across Europe to Poznan. Pat's long overland journey hit the national airwaves when his anxious fiancée Louise Sugrue from Duagh contacted the Ray Darcy Show on Today FM to ask fans travelling to Poland to keep an eye out for him, and he soon became a regular on the show, telling Ray and his listeners the latest news. His fame was such that when he finally reached Poznan he was the centre of attention, and Robbie Keane's wife Claudine sought him out to have her photo taken with him.
Pat is now back in Ireland, but he kept a diary of his adventures on the journey to Poland and is putting this in book form, with proceeds going to the Alzheimer Society. Details of the book will be published shortly, and the public are asked to buy lots of copies to help the excellent work being done by the society.