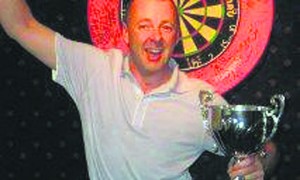 This year's Men's Singles Darts Tournament was held in Maureen's Bar. After a fantastic season of darts in the league it was a chance for the players to show their stuff in the coveted event. A huge turnout supported this fantastic competition. A great night of darts started with the sharpshooter from Ballyclough Brian O'Keeffe against former winner Brendan Linehan. Brian was in devastating form from start to finish with numerous tons and magnificent finishing of the highest standard, winning 3-1. Next up was Pat Angland against David (DOB) O'Brien. The young Maureen's player was powered up for this game but the experienced veteran ran out a 3-0 winner.
Player of the year Nicky Sherman was in scintillating form on the night and won his first round match 3-0 with a mighty 120 finish. There were other first round victories for Stephen Connolly (Bweeng), Danny Butler (Moriarty's), Peter O'Donovan (Maureen's) and Noel Dinan (Maureen's). Pat Daly was also on fire in the first round, winning 3-0 and hitting his first 180 of the night.
There were some great tussles in the second and third rounds, after which the final four players were Pat Daly, Nicky Sherman, Stephen Connolly and Brian O'Keeffe. The first semi was between Brian and Pat, and from the get-go both players were pumped up and hit the dartboard with ton after ton, and with a couple of 180s from both players and four 100-plus finishes it was the Ballyhea all star who secured his place in the final with a fantastic bull finish. Next to the oche were Stephen Connolly and Nicky Sherman, and from the start the board was peppered by both players with ton after ton and deadly aim around the doubles. In a real see-saw match with both guys winning their own throws, it was going to be a very close affair, but when it was needed Stephen found an extra gear and accelerated into the final. Now to the final where the two best players on the night were ready to fight to the death for the honour of being crowned this year's champion.
What a final these guys provided, with a very high average of around 95-96 by both players. Pat rattled off his fifth 180 of the night in the first leg and a fantastic 140 finish to gain the early lead. Stephen responded in the next with his fourth 180 of the night and a 100 finish to level. Pat started the third leg with 140 followed by Stephen with 140. Pat then threw another 140, Stephen followed with the same, but Pat crunched the double first to take the lead 2-1. In the next Pat threw another 180 followed by Stephen as well, but the Ballyhea King was lethal finishing 66, bull, then double 8. With a lead of 3-1, Pat was powering away and another high scoring game and a finish of 86 put him 4-1 up. Then, like the Rocky movies where one guy is getting clobbered, Stephen woke up and lifted his game to Pat's standard and that's when the fireworks started. Pat threw 140 to start the sixth leg but Stephen replied with 180, 140, 100 and a fantastic 81 finish to pull one leg back. In the next Stephen again hit 180, Pat got two 140s of his own missed but double top and Stephen went in and took out 128 to get another leg back, 4-3. This was turning into a classic game of darts. Both players were really in top form and people watching did not want this to end as the standard of darts was of a television standard. Pat staarted with 135, 100 and 100, and Stephen replied with 100, 100, 138. Both players had shots at the double but it was Stephen who levelled up the game with double one. After all the darts and great scoring, this year's champion would be decided in the last leg. Pat started with an impressive 140 followed by Stephen's 100. Then the Ballyhea man raised it another notch and gritted his teeth and hit treble 20, treble 20, treble 20, and another devastating 180, and he could sense victory. Stephen rattled off a few tons to keep himself in the match, but Pat could feel victory was close and with fantastic darts he hit double top and jumped with joy at the end of an absolutely thrilling final. Pat, after this performance, should think about his TV walk-on music as his standard was of a professional player. Pat thanked the organisers and all his fellow players for the great night of darts. So it's Pat Daly of Ballyhea who is a deserving champion this year. Well done, Pat!