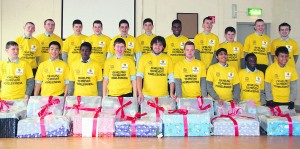 The Patrician Academy Young Social Innovators class are shining a light on the issue of homelessness. The plight of the homeless is a major problem all around the world, including Cork city, and indeed nearer home. In 2012 alone, over 70 people presented as homeless in the North Cork area. This figure inspired the Young Social Innovators class to raise awareness about this issue which affects thousands of people in Ireland.
The YSI students have decided to experience what it is like to be homeless by organising a 'Sleep-Out' on December 18th. It is a brave decision which will see the students experience a sleep-out in winter conditions and so they will appreciate what it is like to sleep rough around Christmas. This sleep-out will be the first ever sleep-out in Cork and is being organised in conjunction with Focus Ireland. It will also be a fundraising event to raise funds for Focus Ireland. The sleep-out will take place in Mallow town on Wednesday, December 18th from1.30 p.m. to 9.00 p.m., and will continue throughout the night in the grounds of the Patrician Academy.
This awareness-raising event is only one of a number of activities being organised by the YSI class in their efforts to highlight homelessness. The students held a flag day in Mallow in October and collected €611 and they are now collecting food items from all classes in the school to provide food hampers for Christmas for the homeless in the Mallow and North Cork area. Hampers will be distributed through organisations working with the homeless. The YSI class really appreciate the support they have received from parents, fellow students and the local community in their activities so far. Proceeds of all fundraising activities will go to Focus Ireland.