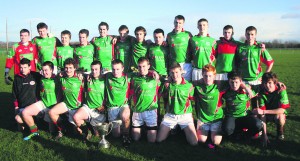 Academy (Mallow)………………………………………………1-12
Ballincollig CS…………………………………………………..2-6
This Cork Colleges Senior B FC final at Mahon on Friday was of a very high standard. In the end it was Academy Mallow, with a great second half, who ran out victors. Ballincollig had the wind in the first half but they found scores rather difficult. Academy used the short passing out of defence at speed, but some very good combined play was not matched up with scores on the board.
Ryan Harkin and Eoin McCarthy swapped an early point with Academy edging ahead through Conor Crowley. Ballin-collig levelled by Ryan Hogan after a four man movement. Mallow gain-ed supremecy in the half back line, midfield and half forward line but they were unable to pull away as they had some bad wides up to the break. In the 15th minute Aaron Sheehan was put through by Ryan Harkin and Pat Herlihy but his effort from close range went over when there was a goal chance on. Further Academy pressure saw Aaron Sheehan and Con-or Crowley work well for the inrushing Eoin O'Regan to score a well taken goal.
Ballincollig replied from the kickout when Cillian Coleman gained poss-ession and he worked well with Kevin Murphy and Eoin McCarthy to put Ryan Hogan through for a well taken goal. Ballincollig levelled soon after when Vincent Coff-ey placed Cian Dorgan for a 20th minute point. Both sides added another point each before the break.
Academy dominated the second half. They used the short passing to great effect and cut off the supply to the Ballincollig attack. Early points by Ryan Harkin and Mark Heffernan were followed by a point by Ballin-collig's Peter O'Neill. Academy struck for the next six points by Mark Heffernan (3 frees), Ryan Harkin, Garret Linehan and Aaron Sheehan to be comfortably ahead 1-12 to 1-5 with six minutes remaining. Ballincollig battled to the end and a goal and a point by Cian Dorgan had the lead down to a goal in injury time. Mallow held firm for a deserved win. After the game Edward Cronin, Cork Colleges Vice Chairman presented the cup to outstanding Mallow captain Billy Sheahan.
Scorers for Academy: Mark Heffernan 0-4 (0-3 frees), Ryan Harkin 0-3 (0-1 free), Eoin O'Regan 1-0, Aaron Sheehan 0-2, Garrett Linehan 0-2, Conor Crowley 0-1.
Ballincollig CS: Cian Dorgan 1-2, Ryan Hogan 1-1, Peter O'Neill 0-1, Eoin McCarthy 0-1, Cillian Coleman 0-1.
Academy (Mallow): Padraig Buckley (Mallow), Jack Murphy (do), Liam Cronin (Killavullen), Niall O'Keeffe (Mallow), Conor Casey (Kilshann-ig), Billy Sheahan (capt, Mallow), Eoin O'Regan (Shanballymore), Killian O'Connor (Mallow), Daniel O'Callaghan (Clyda Rovers), Ryan Harkin (Mallow), Mark Heffernan (Ballyclough), Pat Herlihy (Mallow), Conor Crowley (Clyda Rovers), Denis Cloghan (Kilshannig), Aaron Sheehan (Mallow). Subs: Garrett Linehan (Croke Rovers) for Daniel O'Callaghan, Jack O'Hanlon (Mallow) for Liam Cronin.
Ballincollig CS: Seán Hogan (Ballincollig), Jack Linehan (Eire Óg), John Mullins (do), William Aherne (Canovee), Ciaran McKenna (Eire Óg), Frank Down (Ballin-collig), Robert Noonan (do), Ryan Hogan (do), Cillian Coleman (do), Eoin McCarthy (do), Vincent Coffey (Eire Óg), Robert Aherne (do), Kevin Murphy (Ball-inora), Peter O'Neill (Ballincollig), Cian Dorgan (do). Subs Luke Murphy for Robert Aherne, Tadgh Creedon (Eire Óg) for Kevin Murphy.
Referee Nathan Wall (Carrigaline).