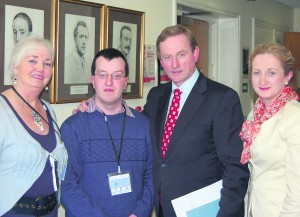 Paul O'Dea experienced what it is like to be a rural TD working in the Dáil when he shadowed Fine Gael TD, Áine Collins on Wednesday 2nd May. Supporting National Job Shadow Day, Deputy Collins said: "I was delighted to welcome Paul O'Dea to Leinster House as part of the Job Shadow Initiative. Paul has a strong interest in politics and it's always great to be able to foster that interest in any young person. I had no hesitation in saying yes when St. Joseph's Foundation asked would I take part in the Job Shadow Initiative which gives hundreds of people with disabilities the opportunity to shadow a workplace employee as they go through a normal working day in hundreds of employment locations across the country."
The Job Shadow Initiative, which is organised by the Irish Association of Supported Employment (IASE) gives people with disabilities the opportunity to Job Shadow in a job of their interest and gain a greater understanding of what is involved in that particular area of work. They also learn about the skills required and employers' expectations from employees in the workplace. Deputy Collins said "It's a really worthwhile initiative and I was delighted to be asked by St. Joseph's in Charleville to take part. St. Joseph's is a fantastic facility, providing services helping people with disabilities from an early age.  Early intervention is essential as well as to have on-going support throughout a person's life and St. Joseph's does all this.
St. Joseph's provide early intervention and pre-school service, school, adult day and residential facilities and also an elder care service together with comprehensive family support services including respite care and home support.
"I particularly want to thank Paul for taking part and coming to Leinster House – he certainly got an insight into the early mornings and long days involved when travelling to and from the Dáil, but also what a busy and exciting place it is to work in.  I'd like to wish him every success in the future".