Saturday 10th December promises to be a very special night for something that has been part of the life of Newcastle West for half a century. On that night current and former members of the Newcastle West and District Pipe band will convene for a night of nostalgia and celebration to mark the Golden Jubilee of its formation.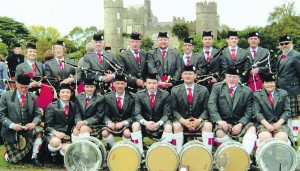 Newcastle West Pipe Band was formed on 9th December 1961 when 11 people turned up in the Parish Hall to form a band. That first meeting elected officers Richard Maguire, Chairperson, Edward Guiry, Treasurer, Seamus Hunt, Secretary, Committee: Charles Lafferty, Tom Murphy, Stephen Donovan, Peter Cremin, Tom Davis, John Wright, Michael Lane, and Moss McElligott.
During the next twelve months piece by piece, the new ensemble acquired the instruments and diligently practised ahead of the band's first public appearance. That came to coincide with the arrival of Santa in Newcastle West on 8th December 1962. The first band comprised of P. Mulvihill staff, Brendan Maguire, Pipe Major, Pipers Timmy Keating, Seamus Hunt, John Massey and Paddy Harte, Bass Drum Ray Maguire and side drums Jackie O Sullivan and Peter Madigan. Though still without uniforms and having played in Tournafulla to mark local athlete Seán O'Sullivan being awarded the Caltex Award, the band made their television and radio debut in the Fleadh Cheoil parade on 26th May 1963.
The band was known originally as Newcastle West Pipe Band before becoming St. David's Pipe Band for many years and later Newcastle West and District Pipe Band which it is today. Newcastle West has a long tradition for bands going back over almost a century to the Molly Ma-guires, a name derived from a labour movement in America and a second band, the Cashel Hacks.
The Newcastle West Pipe Band has been very successful in competition down through the years with the outfit's biggest success coming third in the world from 39 bands in 1999 in Glasgow for which they were awarded the much coveted Ben Loman Shield. The band has won as many as six All-Irelands in piping as well as numerous Munster titles. "Our drummers are regarded as among the best in the south of Ireland, we are very keen on competition as it raises the standard and when the standard is raised, there is more enjoyment in playing," Seamus Hunt said.
Hunt, a founder member and first secretary, ever present for five decades describes being wanted, being needed and appreciated as the highlight of his 50 years with the band. "There is great camaraderie in the band, we are out there as a team and we have learned a lot together. The music is the greatest bond of all transcending age, experience and talent," he said.
Many have come and gone from the band in the last five decades and now one big bash is planned for Saturday week when as many living former members as possible will come together to celebrate the Golden Jubilee. Starting with a meal at the Courtenay Lodge at 6pm for members and dormant members followed by presentations to the surviving founder members of the band.
Later on that evening a dance will be held with the music provided by two former members of the famed Maurice Mulcahy Orchestra, Oliver and Tony. During the dance, there will be some concert items featuring members of the Newcastle West and District Pipe Band and the Lawrence O'Toole Pipe Band, Dublin, together with other items. Everybody is welcome to the dance which commences at 8.30pm and admission is just €5.