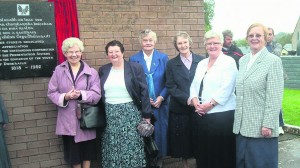 On Friday 30th September a special ceremony took place in the school grounds of the Presentation Primary School Doneraile, and there were double celebrations.
The school was 40 years old on that day, having been officially opened on 30th September 1971. Mass was celebrated on the day in the Church of the Nativity, Doneraile by Fr. Tobias Bluett, P.P. Also there were Fr. Chris Donlon, Fr. Pat Scanlon, and Canon Michael Harrington (former priests of Doneraile). The second part of the celebrations was the unveiling of a plaque by Sr. Lelia. The plaque was dedicated to the Sisters in appreciation of the outstanding contribution of the Presentation Sisters to the education of the youth in Doneraile from 1818 to 1992.
The Doneraile convent was the first convent in the Diocese of Cloyne. A school building was added to the convent in 1840. In 1918 the community celebrated the centenary of the foundation of the convent. The nuns left Doneraile in 1992 and a lay principal, Mr. Eamon Horgan, was appointed principal of the primary school. The secondary school had previously amalgamated with the Christian Brothers Secondary School to form the Nagle Rice Secondary School. In 1991 there were four nuns and two lay people teaching in the primary school. By the following year it was a complete lay staff.
Also on Friday a foundation stone from the convent was brought to the primary school yard. Mrs. Margaret Sheehan, who has lived beside the Presentation School since 1961, planted a cherry blossom tree in the school grounds. A series of old and new photos were on display, as were the original roll names for the year 1971. Past teaching staff, past pupils, families and school children were present on the day. Also present were nine Sisters from Cork, Kerry, Tralee and Limerick: Sr. Bríd, Sr. Elizabeth, Sr. Evelyn, Sr. Callie, Sr. Lelia, Sr. Josephine, Sr. Jenny, Sr. Ann and Sr. Eileen.