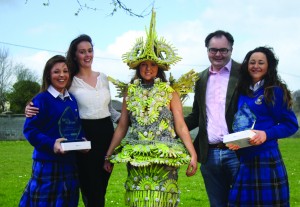 In front of over 300 students, parents and representatives from Junk Kouture, the European Recycling Agency and Bank of Ireland, Coláiste Iosaef's Junk Kouture Grand Final winners Annie Corbett, Shannon McCarthy, Ceile Corbett together with their teacher Ms Niamh O'Hara were presented with their prizes for winning the All-Ireland Junk Kouture competition. Also in attendance was Celia Holman Lee and Mr Seán Burke, CEO of County Limerick VEC.
Last week over 80 trend setting secondary school students from all over Ireland showcased their stylish, outrageous fashion designs made from rubbish and recycled materials as they competed in the Grand Final for Junk Kouture Recycled Fashion Competition 2013 at the Bord Gais Energy Theatre, Dublin.
The girls were presented with their trophies as well as €2500 for the school iPhones and €500 each, an all expenses paid trip to the Cannes Film Festival, London Fashion Week and Royal London Film Festival and a one week course in a top art and fashion house in Dublin
Celia Holman Lee was MC for the afternoon as Annie Corbett together with students from past Junk Kouture competitions including Katie O'Brien (Regional winner and runner-up 2012), Niamh Webb O'Rourke and Shannon O'Gorman, strutted the catwalk at Coláiste Iósaef in celebration of this wonderful achievement.
What a week it was Coláiste Iósaef. To top it off, they also appeared on RTÉ's Dragons Den which will be aired this Sunday at 9.30pm on RTÉ 1. Be sure to tune in and see if these young entrepreneurs can handle the heat of the Den and the Dragons.