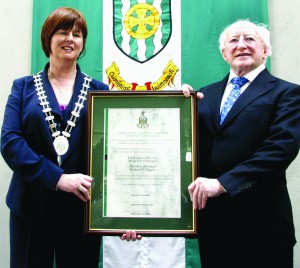 President Michael D Higgins was accorded a civic reception during a day-long visit to his native city of Limerick and county last Thursday.
President Higgins' first call was St. Gabriel's School and Centre, Dooradoyle, before going on to County Hall in the early afternoon where he was accorded a civic reception.
Speaking at the civic reception, Gerry Behan, Limerick County manager said "a civic reception is the highest accolade at the disposal of Limerick County Council for any individual, group or organisation and one that is, for you a Uachtarán, thoroughly deserved. Your visit to Limerick County Hall has generated great interest throughout Limerick, which is testament to your longstanding reputation, your close ties with the county, and of course the respect that people have for the office of President."
On welcoming President Higgins to County Hall, the Cathaoirleach of Limerick County Council, Cllr. Marty Harty said "your election as President was celebrated across the city and county. The fact that we can lay claim to the 9th President of Ireland is something Limerick people at home and abroad are very proud of. Your ascendancy to the most prestigious role in the country has made everyone in Limerick stand a little taller and express their pride of place."
"Throughout your career to date, you have been a passionate political voice, a poet and writer, academic and statesman, human rights advocate, promoter of inclusive citizenship and champion of creativity within Irish society," Cllr. Harty added.
During the course of a wide ranging address President Higgins said "Implementing the mandate you have given me as president, I seek to achieve an inclusive citizenship, where every citizen participates and is treated with respect. I wish to draw attention to and support initiatives for inclusion across Ireland and to make it a priority to visit and to support the participation of the most excluded in our society."
Speaking of Limerick, his Excellency went on, "the people of Limerick throughout their history have shown pride and strength in building this impressive city for its citizens and nurturing its rich heritage. Today we see that Limerick is successful in many areas – in business, education, sport, arts, and culture. Limerick is a privileged county with its many and varied resources, but its greatest assets are its people. It is has been a privilege to return here on what is a very special occasion for me."