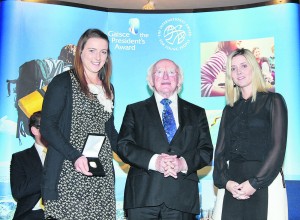 The President's Gaisce Award is the most prestigious award in Ireland for young people aged 15 to 25. Gaisce is an old Irish word which means 'a great achievement'. The award programme is a challenge from the President of Ireland to young people to set and pursue personal goals in four different areas of activity; Community Involvement, Personal Skills, Physical Recreation and an Adventure Journey, A Residential Project is required for the Gold Award, all with the support of an adult leader – the Gaisce PAL. There are three separate awards; Bronze, Silver or Gold with the level of effort and maturity required increasing as a participant moves towards the Gold Award.
This year at Davis College, 17 students achieved the bronze award, and for the second year running one student has achieved the Gold award, which was presented recently in Dublin Castle by President Michael D. Higgins. To achieve the gold award, Katie Healy invested remarkable time and effort. She completed one hour in each of the following activities, over a 52 week period, triathlon training, cooking and baking, and volunteer training in under 10 football. For residential, Katie assisted as a helper in Lourdes for 6 days, and finally for her adventure, she completed a 90km hike in Killarney and Valencia Island over 4 days.
List of recipients 2012: Gold, Katie Healy; Bronze, Laura Browne, Eilis Ahern, Colette Healy, Lukas Sheahan, Sean Matthews, Lekisha Brown-Flynn, Johanna O'Mahony, Taylor Aherne, Josie McGrath-Ryan, Meaghann Murphy, Shane O'Connell, Sarah O'Regan, Stephen McEvoy, Craig Sheehan, Adrian O'Connell, Callum Suart and Chantelle Flood.