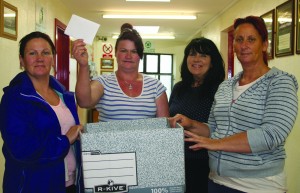 West Limerick Primary Health Care Project for Travellers has been to the fore last week, hosting Men's Health Week and raising awareness and providing information on issues surrounding men's health.
Men's Health Week ran from Monday 11th until Sunday 17th June 2012. The focus in Ireland this year is on encouraging all men and boys to develop a 'First Instinct' which is to seek help and support in times of difficulty or trouble. There is certainly a need for this, as men, on the island of Ireland, experience a larger burden of ill-health than women and die too young. According to the Men's Health Forum in Ireland, on average, men die almost five years younger than women do and men have higher death rates than women for all of the leading causes of death. Indeed, according to the 2010 All-Ireland Traveller Health Study, Traveller Men live 15 years less than the general population.
During Men's Health Week, staff at the West Limerick Primary Health Care Project for Travellers met forty men in Abbeyfeale to give them health information and the "self-care" message. They distributed health information packs with leaflets on mental health, diabetes, heart health, cancer, healthy eating and physical activity. According to Community Health Worker, Winnie Harty, "it's important to think about your health and take care of yourself and get help when you need it." And because staff are keen to encourage Traveller men to take care of themselves, a draw entry form was included in the information pack and the draw was for one of three men's pamper packs or one of three One-For-All vouchers. Nora Harty expressed great satisfaction with the work done in Abbeyfeale, "despite the wet weather, we managed to get out and meet all those men at their homes." She added that "we are delighted to get the health information to them because many men don't ask for help early enough and sometimes not at all. The men seemed very interested in the packs we made up ourselves, so hopefully they will use the information. Also, some women we met said it was a good idea to do this men's health promotion work."
The winners of the draw, which was held on Thursday 14th June in the Abbeyfeale Community Education Centre, are as follows: Mark O'Brien, Michael O'Brien, James O'Brien, Patrick O'Brien, Richard O'Brien and John O'Brien.
The West Limerick Primary Health Care Project for Travellers is funded by the HSE and managed by West Limerick Resources. The eight Community Health Workers, who are all from the Traveller community, completed their three-year training in 2010 and started employment the same year. Their job is to support Travellers in West Limerick to look after their health and the health of their families. The women do this by getting information out into the community – including information on the services that are available and how to access them if necessary. However, staff are very eager to encourage people to mind their health in the first place and to act early if they have concerns. In the coming months, their 2012 work plan includes projects on diabetes, domestic violence, child safety, breast cancer and heart health. Currently, there are seventy-eight men and women from Askeaton, Rathkeale, Patrickswell and Newcastle West participating in the June Community Step Challenge organised by the Primary Health Care Project. This initiative, to encourage people to be active day-to-day and be aware of how active they are, sees participants wearing a step counter each day and recording their total number of steps each night. There is a draw at the end of the month for all participants who complete the four-week challenge which will run up to the end of September. Please contact the West Limerick Primary Health Care Project for more information.