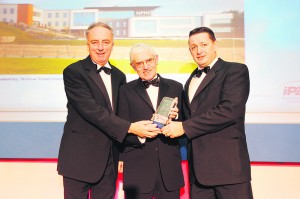 Mallow's state of the art Primary Healthcare Centre (MPHC) was named Ireland's Best Healthcare Building at the Local Authority Members Awards (LAMA) in Dublin last Saturday night. The awards recognise local projects of excellence in the areas of infrastructure, community development, recreation and national impact initiatives. Manager of the MPHC Conor Healy said, "The MPHC was built to a very high standard, it took 7 years to design the building. What we wanted to do was provide the best facility possible to care for the patients in Mallow. We went to a lot of effort to ensure that the building is accessible, open and friendly and this award is recognition of all the work that was put in to the centre".
"To celebrate the award, we are inviting the general public to come to the MPHC on Wednesday, February 29th next for our Open Day. We want everyone to see exactly how the building works and to tell them about the large number of services we provide outside of mainstream GP services", said Conor.
Mallow Town Council nominated the centre for the award on the suggestion of Councillor Noel O'Connor. "A lot of time and effort went into the design of this building", said Noel. "It makes a statement about building in Mallow and about the futuristic way in which Mallow Town Council and Cork County Council Northern Division do their business around Mallow. It's a credit to all concerned and it's great to be recognised nationally".
The MPHC is the new home for 3 general practices formerly located in Mallow town, the Cork Road Clinic, the Red House Family Practice and the Medical Centre. They centralised their services in the MPHC in May 2010.
Since then, the centre has continued to expand, with HSE primary care services, South Doc and North Cork Community Mental Health. The MPHC also includes 'The 4th Practice', which provides additional medical services and enhanced diagnostic procedures such as psychology, nutrition, physiotherapy and specialist clinics.
Further details about the services provided at the Mallow Primary Healthcare Centre are available at www.mphc.ie.