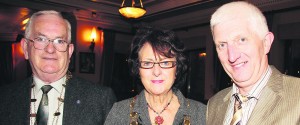 Mallow's Probus (professional business) club last week made a substantial contribution to the work of three extremely important charities. The Cope Foundation, St Vincent de Paul and Mallow Meals on Wheels and were given donations by the club to help them with their vital work over the coming winter months. In May of this year, Probus held a conference in Mallow where over 300 delegates from 138 Probus clubs came to the town from all over Ireland. Local businesses had rowed in to support the Mallow club to host the event and cover the associated costs and last week's presentation was a result of the club deciding to divide and share the financial surplus.
Speaking as the group made the presentations at the Arches Bar on Thursday, October 20th last, President of Mallow Probus Club Tim Heeran said, "Our members wanted to give something back to these worthy organisations which have been working tirelessly and are possibly facing some of the toughest months ahead."
Receiving a cheque on behalf of the Cope Foundation, Jerry Mullane said, "Each and every donation means a huge amount to everyone involved in Cope, it means that we can actually do things with and for our clients". He also issued an invitation to the Probus members to go to Cope to see the work done there at first hand.
Pat Murphy, President of Mallow St Vincent de Paul said that all donations would make a real difference to the local community. He expressed his concern that this year would be one of the hardest faced by the organisation to date. "Last year, we spent €150,000 in Mallow and its environs alone on food, fuel and educational costs. We helped 180 families last Christmas and we expect that number to increase to 250 in 2011."
Representing Mallow Meals on Wheels, Michael Stubbs spoke of the companionship provided by the service. "It's not just about delivering food to homes, but having real contact with people and providing a familiar and friendly face for people living alone everyday". Mr Stubbs also praised the voluntary work of the drivers who give of their time and also incur their own transportation costs to provide such a direct service.
Probus Ladies President Maria Whelan added, "We enjoyed a terrific 2 day All Ireland Conference last May and it is simply fantastic for Probus to be in a position to hopefully try to make the burden on these charities a little easier this year through these donations."