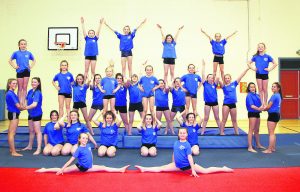 Pyramid Gymnastics Club got off to a flying start at a friendly international acrobatics competition in Galway last weekend. 34 gymnasts travelled from the club to compete against clubs from Wales, England, Northern Ireland, Dublin, Carlow and Galway. The day started with our very experienced grade 5 trio of Lucy Linehan, Alli Fitzpatrick and Ava Hanrahan. They performed an excellent choreographed routine to Abba's 'Gimme, Gimme, Gimme,' and the girls brought home the bronze medal.
Next up were the grade 1 and grade 2 competitions. For most of our intermediate gymnasts, this was their first time at such a big event. The coaches were so proud of all the performances, and the grade 2 trios stole the show, gaining gold for Sarah Jane Clifford, Chloe Savage and Nicole Sheehan. Following very closely behind in silver position were Anna Clifford, Amy O'Donoghue and Nikki Sheehan, and just behind them we had Amy McCormick , Ellie Ryan and Muireann Kelleher. Our youngest members Tori O'Regan and Clodagh Britton brightened up everyone's day with an excellent performance to the 'Jungle Book.'
The grade 2 women's event was a very close competition with Niamh O'Donovan and Katie O'Mahony performing a very elegant and moving routine and winning the silver medal. They were followed closely by Lucy Lynch and Louise O'Leary. These girls were a delight to watch as they danced effortlessly around the floor.
After lunch we saw all our senior members competing at grade 3 and grade 4, showing us what gymnastics is all about. We had some high flying sommersaults, backflips and many other intricate moves being performed by all these girls.
Our women's pair of Noelle Glynn and Ella McCormick performed with great ease and poise to win the coveted cup for the highest score from the club, and an individual silver medal also.
Competing in this round we had Michaela Sheehan, Elaine Daly and Kayleigh O'Connor, Niamh Cronin, Lauren Sheehan, Ava Darcy, Anna Ryan, Holly Harris, Aimee Byrd, Kellianne O'Callaghan, Ciara Buckley.
Silver Medal: Kira Gould, Holly Garvey and Clara O'Riordan.
Well done to all of the above.