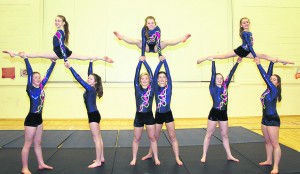 Nine members of the Pyramid Gymnastics and Acrobatics Club will compete for Ireland this Saturday, March 21st at the Celtic Cup, an annual event which is being held in University of Limerick. Teams from Scotland, Wales, Northern Ireland and Ireland will compete in this prestigious competition. The Pyramid girls were selected after their most recent performance at the National Team Championships and National Trials. The Grade 3 trio of Alli Fitzpatrick, Ciara O'Callaghan and Kellianne O'Callaghan came out tops at the trial, getting the highest score overall on both trial days. This is a massive achievement for such a young trio. Team-mates, Lucy Linehan, Emma Fitzpatrick and Anna Ryan will compete in Grade 4 with a very fast-paced and quirky routine that is sure to captivate the audience.
The experienced Grade 5 trio of Michelle Nagle, Aoife Browne and Noelle Glynn show great composure with their very polished and elegant routine, comprising of high climbs, backflips and aerial cartwheels, to name a few. The girls have been working really hard towards this competition, making the necessary adjustments to their routines and keeping up with the extra training sessions.
Each group must perform one routine to instrumental music of choice. The routine can last up to 2 minutes and must include the necessary requirements for each level, including choreography, balances and gymnastic elements.
We all know what a great achievement it is to compete for your club, but to compete for your country is a great honour.
Jackie O'Herlihy, head coach, is very proud of their achievements and wishes them success for the competition.