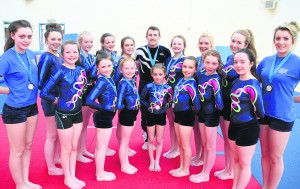 Once again Pyramid Gymnastics came out tops at the most recent International club competition in Geneva, Switzerland.
22 gymnasts ranging in age from 9 to 23 travelled to compete at one of the most highly competitive club competitions on the international scene.
This year's competition showed a very high standard of gymnastics from all of the clubs from different parts of the world.
The club gymnasts performed a stunning range of floor routines choreographed to music with the help of former gymnast, Ide Healy. Routines displayed talent, precision and flair for their given level. Together they outdanced and outperformed their rivals with cleverly constucted rout-ines showcasing a wide range of ability.
The club has been going from strength to strength in the last number of years and this competition was no exception.The success was a testament to the long hours of training and the dedication of the parents and coaches.
Well done to everyone involved
Results: National 1 pairs: Lucy Linehan, Anna Ryan – Bronze; Christina Mullane, Kira Gould – 6th; Caroline Herbert, Alli Fitzpatrick National 1 Trios: Sinead Looney, Orna Cantillon, Amy Stapleton – Gold; Aoife Browne, Emma Fitzpatrick, Sarah O'Brien.
National 2 Pairs: Michelle Nagle, Noelle Glynn, Silver
National 3 pairs: Mark Cranitch, Ciara Fitzpatrick, Silver.
National 3 Trios: Louise Cantillon, Emer Griffin, Michaela Sheehan – Bronze; Carol Healy, Niamh O Connell, Aislinn Hartney, 5th.