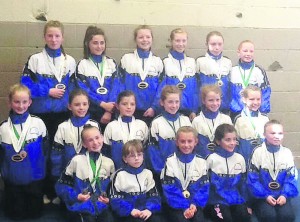 22 members of Pyramid Gymnastics Club in Mallow came home laden with a superb haul of nat-ional honours after a fan-tastic weekend of tumbling in Clondalkin Sports and Leisure Centre last Sunday. Between the 22 members from the club's interme-diate and senior classes, 39 national team and indidvi-dual titles were achieved. Pyramid Gymnastics was one of the most successful clubs on Sunday, taking home the most medals for any one club. Pyramid Gymnastics age range was 8-17, competing at all levels from recreational all the way up to Level 1.
Tumblers were required to perform two tumble passes consisting of cartwheels, rolls, round-offs, backflips and somersaults, whilst travelling at speed down a 25 metre tumble track. Gymnasts need great courage and skill for this daring event. The competi-tion was held in front of a very vocal audience that encouraged and supported every competitor, creating a fantastic atmosphere for the spectacular tumbling on display. The competi-tion itself was a tremen-dous success with over 152 competitors from all quarters of the country.
Head coach Jackie O'Herl-ihy was absolutely deligh-ted with the performances and the results as this is the first time the club has ent-ered the National Tumbling League. The following the list of performers over the weekend: Michelle Nagle (2 gold, 1 silver and 1 bronze), Niamh O'Connell (2 gold), Ciara Fitzpatrick (2 gold), Amy Stapleton (3 Silver), Kellianne O'Callaghan (3 silver), Sarah O'Brien (2 silver), Ciarnad O'Donovan (2 silver), Sinead Looney (1 bronze), Ciara O'Callaghan (1 bronze), Sarah Heelan (1 bronze), Noelle Glynn (2 gold, 1 silver), Anna Ryan (2 gold, 1 bronze), Emily Kelly (1 gold), Caoimhe O'Riordan (1 bronze, 1 silver), Lauren O'Kane (1 silver), Lauren Sheehan (1 silver), Chloe Savage (1 silver), Emma Hassett and Zara O'Hanlon (a special mention to these two girls, the youngest members competing for Pyramid Gymnastics who did the club proud perfor-ming with such confidence and ability at such a big event), Kira Gould (2 gold, 1 silver), Alli Fitzpatrick (1 gold, 1 bronze), Hannah Fitzgerald (1 gold).
Well done to all the coaches and judges that made this such a great weekend. The next event for Pyramid Gymnasts is the summer camp in the training hall at St Mary's Secondary School, Mallow.