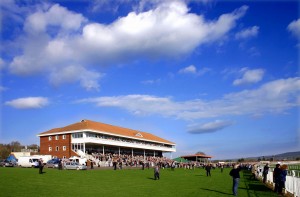 Fifty years ago, Mallow Racecourse hosted a 1916 Pageant, probably one of the greatest community events held in the town, and as the centenary of the 1916 Rising approaches, it has been announced that the local racecourse will once again play host to a major commemoration. It has now been decided that all the events will take place at the racecourse complex during Easter weekend, in conjunction with the Racing Home for Easter Festival.
It is understood that there will be a parade led by a band into the racecourse on Easter Monday morning where there will be flag raising ceremony and the reading of the Proclamation by students from Davis College, Patrician Academy and St. Mary's Secondary School, plus a reading of the Oration by Padraig Pearse at the graveside of Jeremiah O'Donovan Rossa and the playing and singing of Amhrán na bhFiann. It is also hoped to have the presence of the Reserve Defence Forces, and there will be a re-enactment of the events of 100 years ago which had such a profound effect on the future of Ireland.
There will also be a marquee on the grounds of the racecourse, which will house a major exhibition of 1916 and War of independence memorabilia.
Many Mallow men and women played a part in the events of 100 years ago, and the great courage and bravery of people such as Jackie Bolster, Dick Willis, Leo O'Callaghan, 'Congo' Moloney, Patsy Holmes, Andy Sullivan,
Chris O'Connell, Dan Hegarty, Owen Harold, Michael Murphy, Jack O'Brien, Jack Cunningham, Jack Barrett the Bennetts and Mullanes and their families will be honoured.
Everyone is welcome to join the parade on the day, and it is hoped that some will take part in period costume.
As well as the Mallow commemoration, a centenary recreation of the Easter 1916 March into Bweeng will be held on Sunday, 24th April, culminating with the unveiling of a commemorative plaque in the Community Field. One hundred years ago, more than 300 men from companies in Mourneabbey, Mallow, Kilmona, Whitechurch, Donoughmore, Castletownroche, Courtbrack, Nadd, Lyre and Lombardstown marched to Bweeng, and also present on that day were Thomas McCurtain, Terence McSweeney, Michael Lynch and Tom Kent. Mallow was well represented at that march, with Captain Dan Hegarty of Fair Lane and Lieutenant Chris O'Connell of Beecher Street arrested after the Rising and interned in Frongoch, North Wales.