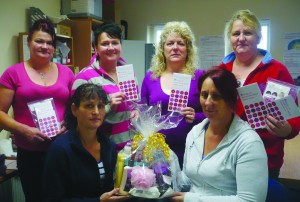 October is breast cancer awareness month and the month when Community Health Workers from West Limerick Primary Health Care Project are calling to women to encourage them to go for their BreastCheck appointments. BreastCheck is the national breast cancer screening progr-amme in Ireland. It is a Government-funded programme providing breast screening and invites women aged 50 to 64 for a free mammogram (x-ray) on an area-by-area basis every two years. The aim of BreastCheck is to reduce deaths from breast cancer by finding and treating the disease at an early stage.
"As well as encouraging women to go for scree-ning", according to Mo Foley, Coordinator of the Primary Health Care Project, "the staff explain what BreastCheck is and can support women to register for the programme if they are not already registered. Once an eligible woman is registered she will receive a letter from BreastCheck inviting her to screening and will continue to be contacted every two years for the time she is eligible. The Community Health Workers also give women an information pack which has information about BreastCheck. They use a leaflet, "9 things you should know about breast cancer" produced by Europa Donna Ireland, to talk about how to reduce your risk of breast cancer." Winnie Harty adds that "most women who go for screening do not have breast cancer. But if you do have it, the sooner breast cancer is found and treated in a Specialist Breast Centre the better your chance of surviving it. It's really important for ALL WOMEN to be aware and to go to their GP if they notice any changes in their breasts and to go to for screening if they are eligible."
For more information on BreastCheck call 1800 45 45 55 or go to www.breastcheck.ie. BreastCheck encourages all women who receive an invitation to attend their appointment. Women who have any concerns regarding their appointment can contact BreastCheck on the Freephone number. BreastCheck continually encourages all women to check they are on the BreastCheck register and details are correct.
Europa Donna's  award-winning cancer awareness leaflet is easy to read and informative and illus-trates some facts about breast cancer, how to reduce risk with simple and clear information and advice. It can be down-loaded from http://www.europadonnaireland.ie/files/Leaflet%2010page_0.pdf.