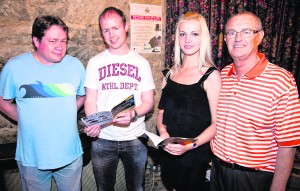 The Shoestring Theatre Company's production of 'Thy Will Be Done' by Michael Carey received a rapturous reception from the first night audience at the Schoolyard Theatre Charleville last Sunday night.
From the opening scene the actors, led by Martin Hennessy as Jack Griffin and Katie Holly as Bridie Lavin (the real boss) had the audience in stitches, as directed by Kevin O'Shea, they brought to life the clever script of Michael Carey. They were well supported by Lorcan Browne, who made the part of Martin Griffin his own, and the excellent Ger Liston as the bitter Peteen, who is at loggerheads with his brother Jack over land and a woman.
Martin Hennessy's playing of Jack and Katie Holly's Bridie confirms the versatility of these brilliant actors who were last seen, respectively, as the Bird in the 'The Field' and Katie as Breeda in 'Eden.' Ger Liston was of course Dandy also in 'The Field.' The performance of Lorcan Browne, who returns to the stage with the Shoestring after a number of years, is a revelation.
Kevin O'Shea's direction is flawless and the set by himself and Seamus Hunter is magnificent, all adding up to a wonderful night of entertainment and laughter, which should not be missed. The play continues at the Schoolyard on this Sunday night 21st July, on Wednesday 24th, Friday 26th, Saturday 27th and Sunday 28th July. Booking is at 087-2530955.