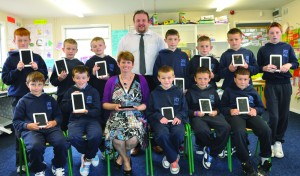 It was celebrations in St. Joseph's Boy's School Rathkeale last week after the 4th class pupils from the school scooped first prize in the National Dairy Council's Moo Crew competition.
Moo Crew is an exciting initiative from the National Dairy Council where pupils explore the benefits of a healthy, balanced diet and an active lifestyle. Designed for 3rd to 6th classes, pupils will learn all about nutrition and healthy eating, the benefits of exercise, and explore where dairy comes from in its journey from farm to fridge.
The 4th class pupils and their teacher Mary Wallace entered a project that was short listed from hundreds of entries across the country with two more entries from Roscommon and Wexford. The Rathkeale school was declared the winner at a function in Causey farm in County Meath last week and Irish Olympic Boxer Darren O'Neill was on hand to present the school with their prizes which were a class pack of Samsung Galaxy I pads for the pupils and a luxury spa weekend away for their teacher.
For their project, the class launched a school survey among the school community to establish how much dairy products were consumed by the school population. They promoted dairy products through a school pack, by composing a song and producing a DVD. A Dairy products tasting morning was held in the Local Spar in Rathkeale where Glanbia provided samples of milk, cheese and yoghurt. Customers were invited to taste the products while the pupils explained the benefits of using dairy products.
As part of the prize, St. Joseph's also received the Cuchulainn Crystal Trophy for the school, while the winning entry was featured on TV3 and on Radio 1.