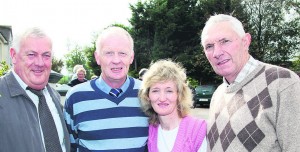 Last Sunday was a landmark day for the community of Milford with the official opening of the refurbished Community Hall. The people of Milford were joined by local politicians, David O'Grady of Ballyhoura Development and other dignitaries as the Mayor of County Cork, Cllr. Tim Lombard, cut the ribbon and unveiled a plaque.
The ceremonial opening marked the completion of six years of work by the local Community Council which was reformed in 2005. In 2008, Milford Community Council secured the title ownership of the Community Hall for the community and individuals of Milford. It was around this time also that the community identified, by means of the Milford Community Socio-Economic Plan, facilitated by Ballyhoura Develop-ment, the need for adequate social, cultural and leisure facilities in the community, and found that the lack of such facilities would be a barrier to further develop-ment and sustainability in the community and in attracting new and existing residents of the area to participate in community life.
The major refurbishment was carried out with the assistance of a grant of €30,000 from Cork County Council and a grant of €52,726.78 through Ballyhoura Development under the Basic Services for the Economy and Rural Population Measure of the Rural Development Programme.
"This redeveloped facility can now contribute significantly to enhancing the quality of life, both socially and recreationally, of all residents of the Milford community and I have no doubt that this fine centre will provide a strong focal point for the community to meet local needs in an effective and practical way as well as providing a venue for people to gather and enjoy themselves," stated David O'Grady, Development Officer, Ballyhoura Development, at the opening ceremony.