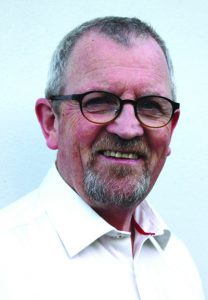 The renowned Kildimo columnist and author, Jim O'Brien is to launch a new collection of his musings under the title 'Matters of Great Indifference' at the Seven Sisters Pub on this Friday night, 2nd December. On hand to do the honours will be broadcaster Darragh McCullough of RTE's 'Ear to the Ground' and a fellow columnist with Jim at the Farming Independent.
This is the second collection of O'Brien's weekly musings taken from the pages of the Farming Independent.
It contains a selection of pieces published between November 2020 and October 2022 and, according to the author, matters of all sorts are covered. "I have a look at everything and anything from the end of the pandemic to the start of a war and from the arrival of a new pup to the departure of a Queen, "Jim said.
Drawing from childhood
The pieces are inspired by the life Jim is living and the context in which he is living it. "I draw from my childhood in Kildimo and other places I have lived, including Foynes in West Limerick, Rosenallis, Co Laois and in O'Gonnelloe, Co Clare, where I now reside.
These are among the deep wells I draw from," he added. While the last collection of columns was very much coloured by Jim's travels around the country, he has since been 'confined to barracks' by Covid and other circumstances. O'Brien describes this new volume as being more reflective and the product of what he refers to as a 'semi-monastic existence'.
Drinking a few pints
But it isn't all serious, "I find lots to smile and laugh about. The title comes from my grandfather who went to the pub most nights to drink a few pints, play a game of cards and discuss what he called 'matters of great indifference'. "I'm delighted the launch is taking place in Kildimo where I first clapped eyes on the planet and also deeply grateful to Dominic Taylor and the Limerick Writers Centre for publishing the book. It is good to shop co-operatively and shop local, "Jim signed off.
Where to get it
'Matters of Great Indifference Volume II', which would surely make for a nice Christmas gift, is available from www.jimobrien.ie, O'Mahony's bookshops in Limerick and Ennis or online at www.omahonys.ie. It is also for sale at the Crescent Bookshop in the Crescent Shopping Centre in Dooradoyle, Limerick.