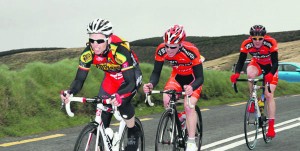 Mallow man Richard Hooton (21) made an impressive start to the 2012 cycling season when he claimed 2nd place at last Sunday's Lacey Cup, based out of Tralee in Co.Kerry. The Lacey Cup is Munster's opening event and this year a record 188 cyclists went to the start line for the 75km race. Run on a handicap basis, the field is divided into 4 categories from A4 to A1, with the weaker and less experienced A4 riders being left off first, followed at 2 minute intervals by A3s, A2s and finally the A1s which included Richard (Visit Nenagh-N7 Cycling Team) along with 3 time defending champion Sean Lacey (Dan Morrissey-Speedy Spokes). From the very start the A1s combined well, setting a blistering pace as they went in pursuit of the lower categories. At the foot of the first climb at Gleann na Gleat they had the A2 riders in sight. As they closed in on their quarry, Richard attacked hard out of the bunch with only team mate Simon Ryan and Lacey able to follow the acceleration. By the summit of the climb the trio had distanced the combined A1 and A2 group and were now in hot pursuit of the A3/A4s. On the rain and wind lashed descent Ryan was unfortunate to lose contact as Hooton and Lacey worked well together, eventually catching and overhauling all groups in front of them. They emerged together at Inch beach, the halfway point, as the 2 leaders on the road. On the long straight road from Inch to Castlemaine the duo averaged close to 50kph, aided by a strong tail wind. At the 10km to go mark the nearest chasers were almost 2 minutes in arrears as Hooton and Lacey hit the slopes of Slibh Mish. On the final ascent of the day Lacey's power proved too much for Hooton, who went on to finish 2nd, 30 seconds behind Lacey who took an impressive 4th consecutive title. Some 2 minutes later Banteer native and ex-professional Paidi O'Brien led home a highly fragmented bunch to claim 3rd place.
Richard, who this year is riding for Ireland's newest semi professional team, Visit Nenagh- N7 Cycling Team, praised the efforts of his team mates, in particular Simon Ryan and Ivan Casey who worked well to put pressure on the other riders early in the race. The team which was officially launched at the Abbey Court Hotel Nenagh last Friday night is being backed by Nenagh Town Council and Shannon Development, with the aim of attracting tourism in the mid-west region and promoting Nenagh as a cycling hub. Last weekend's performance will no doubt endorse the team's commitment and that of their sponsors.
Congratulations to all riders who took part, including Mallow men Niall Dunne and Marcus Finn, both riding for Kanturk Cycling Club.