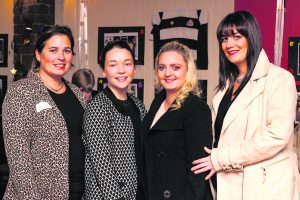 An event that celebrated the golden jubilee of the 'new' Galbally National School and also 75 years of education in former Lowtown NS proved to be an outstanding success over last Friday and Saturday.
The programme of events started on Friday morning when students, teachers and staff dressed in period costume and marched from the 'new' school to the former Lowtown National School, now Galbally Community Centre.
Commemorative book
The subsequent launch of the commemorative publication, 'Galbally NS 50 Years and More Together' that afternoon enjoyed a large attendance with many past pupils meeting up once again to reminiscence on the joys and sad times of other years.
Former students perused a selection of roll books that were on display while present students brought toys from the past and performed songs of olden days as part of the celebrations.
The book, 'Galbally NS 50 Years and More Together', is a splendid publication filled with unique photo-graphs and fascinating memories. It represents a wonderful history of school days dating right back to local Hedge Schools.
Main celebration
The main celebration of the Galbally NS golden jubilee attracted a packed attendance to the Shamrock Lounge, Kilross on Saturday night, commencing with a con celebrated thanksgiving Mass by Fr Jack O'Neill and Canon Denis Talbot with superb music and song from the 30 strong Galbally Community Choir.
The school principal, Martin Kearney and Tom Casey, chairman of board of management, welcomed all those present and offered special thanks to everyone who had helped make the golden jubilee celebrations such a success.
A number of people travelled from abroad including Galbally native Thady Bourke who was there along with his wife to celebrate his 65th birthday and also, of course, to salute the golden jubilee of the school.
There were many others too like Mick Fraher and Harry Bugler who recalled their early school days in Galbally.
Hannie Noonan was there from Tipperary with her sister Peggy McGrath of Emly as was Maggie Caulifield and another senior citizen in the person of Mary Kate Casey of Keylogues, Galbally.
40 years of Kim's People
The social side of the evening got under way after that with local band Kim's People, now celebrating four decades on the road, rolling back the years with an outstanding performance that had revellers on the floor from start to finish.
Kim and Jimmy Drea from Marian Terrace have lost none of their lustre and, if anything, seem to be getting better with age.
Local DJs Tom Cussen and Christopher Hickey kept things going at the finish to ring down the curtain on a marvellous event for Galbally National School.