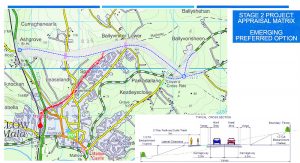 The design team for the Mallow Relief Road have announced their preferred option for the Mallow Relief Road. The route will branch off from the N20 at Mallow Hospital and continue along the north of the town, before merging with the N72 to the east of Oliver's Cross. In addition, a cycling path and walkway is planned for the old railway line which runs next to the estates in Ballyviniter and to the north of Lacknalooha. A cycling path and walkway is also planned for the entire length of the new road. The announcement was made at Monday's meeting of the Northern Division of Cork County Council.
Speaking at the meeting, Cllr. Gearóid Murphy said "The relief road is extremely important for Mallow, so it is good to see that it is progressing to the next stage. When the road is built, it will take HGVs away from the town centre and play a huge role in reducing traffic congestion. I am delighted to see that active travel measures are very prominent in the plans, which will greatly enhance Mallow's accessibility for people living on the outskirts of the town." At the meeting, Cllr. Murphy also stressed the importance of consulting with the residents and landowners living near the proposed route, and that it should avoid existing houses to the greatest extent possible.
North Cork TD Seán Sherlock also welcomed the news but was quick to stress the need for appropriate funding, saying, "We welcome the fact that at least a decision has been made on the route for the Mallow Relief Road. What we need to do now is to ensure that funding follows this process. It's on the cards, we have a long way to go before we get the funding but at least it is moving in the right direction, and that's to be welcomed."
The Selection stage of the project is expected to be completed by the end of the year, after which it will enter Design and Environmental Evaluation stage, before being projected to go out to planning in late 2022 or early 2023. It is envisaged that the project could be "shovel-ready" by 2025.