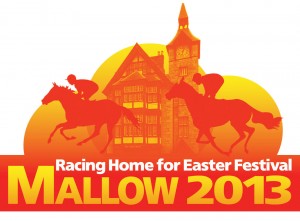 Brendan Courtney, presen-ter of RTE's flagship style programme 'Off the Rails' will be on hand to crown Best Dressed Lady and Gent at Cork Racecourse Mallow during the Racing Home for Easter Festival on Easter Sunday, March 31st. Brendan is not just on our tv screens but is literally at the cutting edge of fashion at the moment. "I've spent a hectic few months in London working on my new fashion line Lennon Courtney so I'm really looking forward to getting back on home turf and my first visit to Cork Racecourse Mallow this Easter", says jet-setting Brendan.
"Each year, the standard of style and fashion on Best Dressed Day gets higher and higher", says festival chairperson and sales and marketing manager at Cork Racecourse Mallow, Mary Kelly. "We are turning things around this year with a male judge and new best dressed sponsors, while still promoting the best of the boutiques and stores Mallow has to offer."
As sponsor of Best Dressed Lady, Moda Mallow are offering a €1000 voucher for the most stylish lady on the day to splurge on labels such as Maison Scotch, French Connection, Avoca, Joules, Selected Femme, Petit Bateau, Noa Noa, In Wear and Cath Kidston. Moda's owners, sisters Eadaoin Myler and her sister Aoife Myler-Herlihy are looking forward to their first year as sponsors. "With hundreds of stylish and chic ladies descending on Mallow over the weekend, we really can't wait to see the wonderful style and headpieces on Best Dressed Day. We hope that the women of Mallow, Cork and further afield go all out to make Brendan's task very difficult."
With Brendan Courtney as the first male judge, the gentlemen are definitely not being forgotten in 2013 with Barry's Menswear sponsoring a €500 voucher for the most fashionable man on Best Dressed Day. Fiona Barry from Barry's says, "As one of Mallow's oldest established busines-ses, we're delighted to be associated with a real up and coming event in the town. Not only is Racing Home for Easter going from strength to strength, but Best Dressed Gent is too."
The most dapper gent on the day can spend his €500 voucher on brands such as Jack and Jones, Selected Homme, Remus Uomo and more. Other contributors to the Best Dressed Day include Susan Brennan/Head First Hat Hire and Park West Flowers.
The countdown is on!
With just 4 weeks until the Racing Home for Easter Festival gets underway, sponsors continue to sup-port the event. "Naturally, costs increase as the festival is extending as part of our partnership with The Gathering, so the sponsor-ship drive continues to play a vital part in the ensuring the festival remains viable," says Festival Chairperson Mary Kelly.
The festival has large sponsors such as Fáilte Ireland, Irish Rail, Mallow/Vale Star, C103 and Heineken but that doesn't stop efforts to secure as much finance as possible on a local level. Indeed, a flag day held last Friday, February 22nd, amid freez-ing conditions, raised almost €1200 for the event. "Our hard working committee members took turns to collect at various points throughout the town last Friday and we would like to sincerely thank all those who gave donations and had a chat and helped keep thoughts of the cold weather at bay," says Mary.
It's been a good week on the sponsorship front too. Mallow Late Night Phar-macy is one of the latest sponsors to not only come on board but increase their involvement since last year. Owner Des Lucey says, "We are delighted to become a Friend of the Racing Home for Easter Festival this year. As a local community phar-macy, serving the Mallow community and hinterland seven days a week, it is an obvious association, given the community focus of the Festival. I have no doubt that the Festival will be a huge success in 2013 – the Year of the Gather-ing."
Having just renovated their 7000 square foot premises in Spa Glen, Donal O'Mahony from Dano's Centra, knows how import-ant constant improvement is. "Each year we can see the festival getting bigger and better and just as Centra is at the heart of the local community, so too is the festival."
Anyone who would like to contribute to the festival can do so by contacting Mary on 022 50207 or Mallow Chamber on 022 55660.
Festival Partners: Fáilte Ireland, Irish Rail, Mallow Town Council, Cork Race-course Mallow, the Mal-low/Vale Star newspaper and C103 (media partners), Mallow Chamber, Dairy-gold, Mallow Publicans, North Cork Enterprise Board, Mallow Primary Healthcare Centre, Knight's Spar and Carry Out, Kostal, Hibernian Hotel, ThermoSafe Brands Europe Ltd, Dano's Cen-tra, Spa Glen, Supermacs and Mallow Late Night Pharmacy.
Friends of the Festival: Mallow Development Part-nership, Blackwater Valley Tourism, ITW Hi-Cone, QiFA Financial, Dermot Casey Tree Care, Art Alliance, Bank of Ireland, O'Connell's Funeral Home, McDonalds, Aunty Nellie's Sweet Shop, Longueville House Hotel, Sheehan's Butchers, Springfort Hall Hotel and Café, Tom Barry TD, Minister Sean Sherlock, DK O'Brien Properties, Luceys Good Food Shop, The Farm, Grenagh, AIB, O'Flynns Footwear, Jim O'Doherty Auto Parts, Lyons Shoes, Mallow Golf Club, Apache Pizza, Peppers Restaurant, Food Capers, Park West Flowers, Munster Flooring, Dan Joe Fitzgerald Furni-ture, Crafted Fitted Furni-ture, Susan Brennan Head First Hat Hire, Foley's Supermarket, Mallow Golf Club, Profectus Coaching, Country Lifestyle, Mallow Library Staff, Celtic Curtains.